Posted in From the Library, Humanities Institute on May 31 2017, by Vanessa Sellers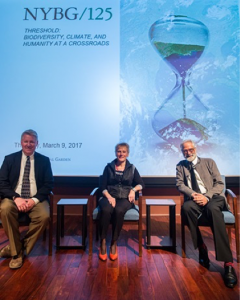 On March 9, the Humanities Institute's Fourth Annual Symposium was held at the Garden, offering a vital discussion among three renowned experts, and the larger public, on biodiversity and nature conservation in the era of climate change. Convened by the Humanities Institute and the Center for Science and Society, as well as History Initiative at Columbia University, this symposium served as a critical introduction to key issues about modern society and its relationship with the environment.
Challenging issues such as the possibility of future life on Earth, participants were invited to ask themselves the following questions: What does biodiversity mean in the broader context of 21st-century environmental politics and ethics and in the specific case of the 2016 Paris Agreement? Is there a common, sustainable future possible in this new period of American isolationism, when Washington threatens to pull out of global environmental treaties, such as the 2016 Paris Agreement? What are the most urgent eco-political and ethical laws that need enforcing to ascertain the availability of the world's natural resources to tomorrow's generation? Challenging questions that need expert knowledge and guidance.