Posted in From the Library, History, NYBG in the News on September 2 2016, by Lansing Moore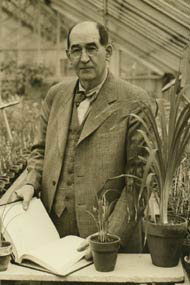 Recently, The Wall Street Journal examined an obscure and surprising piece of New York's botanical history that began right here at NYBG nearly 80 years ago—the Bronx Seedless table grape, a species of the common fruit hybridized in the 1930s by one of NYBG's most prolific scientists, Dr. Arlow B. Stout. Sophia Hollander interviewed Stephen Sinon, the LuEsther T. Mertz Library's Head of Special Collections, Research, and Archives, to learn more about this obscure grape species and the enormous impact it had before fading into obscurity—and near extinction.
In addition to his groundbreaking research into avocado plants and hybridizing many new daylily species that continue to delight visitors to the Garden each summer, Dr. Stout partnered with Cornell University's New York State Agricultural Experiment Station to make a better grape. Seedless, tasty, and hardy, the end result of "more than 20 years tinkering with grape genetics" was the Bronx grape, named for its home borough. Cultivation of this species faded over time. While not successful as a commercial crop, all seedless grapes that we enjoy today are descended from this Bronx native, the result of NYBG's commitment to plant science and conservation that continues to be one of our core values.
Now, from the brink of disappearing altogether, this species is being rediscovered as a source of local pride and historic interest. Click here to read the Wall Street Journal article (subscription required) and learn about Dr. Stout's remarkable life. NYBG has always endeavored to teach people about where their food comes from—sometimes the answer is closer than you think!