Posted in Gardening Tips on April 8 2014, by Sonia Uyterhoeven
Sonia Uyterhoeven is the NYBG's Gardener for Public Education.
---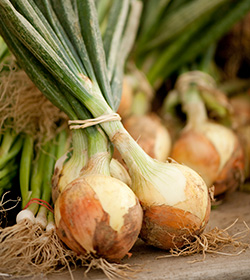 Last week we discussed different onion varieties and explored several ways to prevent the tears from flowing once these spicy bulbs go under the knife. This week, we're switching gears to discuss planting techniques and focus on successfully growing our onions this season.
This is the time of year that I start heading down to the farmer's market in search of onion transplants, which are generally sold in a small, 2-inch pot—all crammed in together. They need to be thinned as well as planted. Once I get into the garden, I take the mass out of the pot and drop it to the ground, letting the root ball shatter and the minuscule transplants separate from each other. With a trowel held like a dagger in one hand and the transplants in the other, I stab the ground and place them 1 – 2 inches deep and an inch apart. In less than a month you will be pulling them up and tossing them into your salad.