Posted in Interesting Plant Stories on November 27, 2013 by Carol Gracie
After spending nearly three decades at the NYBG, and working much of that time in South American rainforests with her husband, Scott A. Mori, Carol Gracie has returned to one of her first botanical interests in retirement–local wildflowers. She is the author of Spring Wildflowers of the Northeast: A Natural History and coauthor (with Steve Clemants) of Wildflowers in the Field and Forest: A Field Guide to the Northeastern United States.
---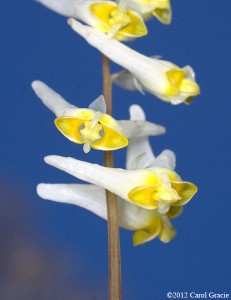 Without aroma, Dutchman's breeches flowers use contrasting yellow and white colors to attract pollinators, namely early-flying queen bumblebees.
In the early spring wildflower parade, Dutchman's breeches (Dicentra cucullaria) follow closely on the heels of hepatica, blooming by mid-April. Dutchman's breeches are one of the true spring ephemerals, plants that complete their entire above-ground life cycle within a period of only a few weeks and then disappear until the following spring. Of course, the underground portions live on, storing the carbohydrates manufactured by the leaves during the brief period before the trees have leafed out and shaded the forest floor. But spring ephemerals are not roadside plants.
To see most of our native ephemerals requires a pleasant walk in the woods. Ephemerals are plants that have evolved to live in the primeval conditions of Eastern North America—a land once covered by forest. They must take advantage of the short period of year when temperatures are warm enough and sunlight sufficient enough on the forest floor for the plant to accomplish three tasks: food production, reproduction, and storage of carbohydrates for the subsequent year's growth.