Posted in Personalities in Science on February 16, 2018 by Stevenson Swanson
Stevenson Swanson is the Science Media Manager at The New York Botanical Garden.
---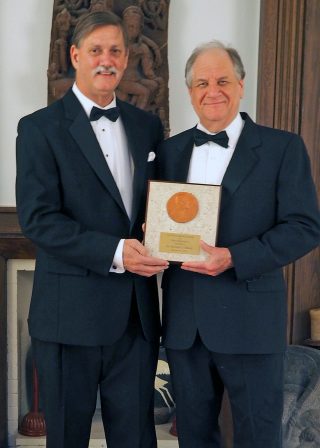 Honoring a career spanning more than four decades of botanical fieldwork and research around the globe, Michael J. Balick, Ph.D., Vice President for Botanical Science and Director and Philecology Curator of the Institute of Economic Botany at The New York Botanical Garden, has been awarded the 2018 David Fairchild Medal.
The Fairchild Medal, given by the National Tropical Botanical Garden, is the highest honor that can be bestowed upon a scientist who explores remote parts of the world to discover important plants and expand our scientific knowledge and practical understanding of them. It was presented to Dr. Balick recently at a black-tie dinner at The Kampong in Coconut Grove, Florida, the historic garden and former residence of David Fairchild, for whom the award is named.
David Fairchild was one of the greatest botanical explorers of the late 19th and early 20th centuries. He introduced thousands of important plant species and varieties to America, including soybeans, mangoes, dates, pistachios, nectarines, and avocados.
The National Tropical Botanical Garden, a Hawai'i-based conservation, research, and educational institution, has given the award annually since 1999.