Posted in Around the Garden on February 29 2012, by Matt Newman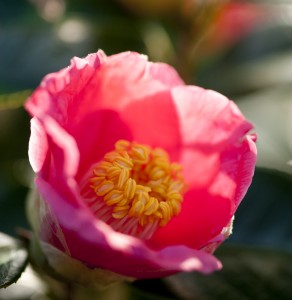 The soft face of the camellia flower springs up so often on Plant Talk that I'm absolutely flabbergasted we haven't taken a closer look at the genus before. In the fall, a few cultivars soldiered on past fluke blizzards and nippy temperatures to keep their flowers until November. And true to that form, the winter camellias have proven some of the earliest bloomers along the Ladies' Border. I'd personally put them on the All-Star team of botanical beauties if we were ever so ridiculous as to create such a thing.
The colors and outline of this evergreen's flowers play on the same aesthetic fascination that many find in cherry blossoms, or the Chinese plum–the camellia is a staple of Asian artwork. And rightfully so. The range of the genus extends from the Himalayas east through Japan, and south to Indonesia. From these regions it has inevitably spread, earning fame and adoration among horticulturists, with as many as 200 species establishing themselves for their ornamental value from one side of the world to the other. But as pageant-winners go, the camellia is especially talented.