Posted in Around the Garden on July 31 2012, by Ann Rafalko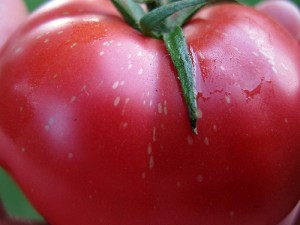 It's tomato time, and that can only mean one thing, that it is also gazpacho time. Gazpacho (or gaspacho) is a cold soup from Spain. It is refreshing, healthy, delicious, and a great way to showcase the intense flavor of summer's most perfect tomatoes.
Gazpacho generally consists of a few basic ingredients; tomatoes, cucumbers, peppers, garlic and olive oil, but as with most "simple" recipes, the variations are endless. We have rounded up a handful of our favorite gazpacho recipes below. Do you have a favorite variation we haven't mentioned? Feel free to tell us in the comments!
Summertime is also a good time to brush up on your food safety smarts. To that end the Cornell Cooperative Extension will be at the Greenmarket this week 11 a.m. – 1 p.m. to offer tips and answer all your food safety questions.
The weekly NYBG Greenmarket occurs every Wednesday through November 21, 9 a.m. to 3 p.m. near Tulip Tree Allée. Admission and parking for the weekly Greenmarket is always free, and EBT, WIC, and FMNP and NYC Health Bucks are accepted.