Posted in Around the Garden on August 31 2012, by Matt Newman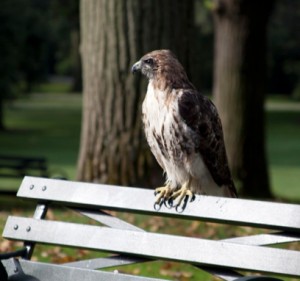 A couple of big announcements for the next few days! First off: it's Labor Day weekend. For those of you who, like me, mentally zonk out and forget the calendar by Friday, this is a timely reminder that there's a good chance you won't have to listen to your alarm clock on Monday morning. So, after you've gotten your extra winks, know that The New York Botanical Garden will be open (we're usually not on Mondays) for any and all visitors looking to make the most of their day off. The forecast for Monday is suggesting highs in the 70s, so I'm thinking there's no excuse to keep yourself cooped up indoors.
Also on the schedule for this weekend–something we've been pretty anxious about–is the return of the Saturday Bird Walk. The Red-tailed Hawks are getting back to their center stage antics just in time for the end of Debbie Becker's summer hiatus, so pack along a pair of binoculars and join us at 11 a.m. on Saturday morning for a trek around the Garden with one of New York's most experienced bird watchers. Seeing as Debbie's been doing this long enough to name our feathered guests with her eyes closed, trust me when I say that you're in good hands.