Posted in Around the Garden, Programs and Events on November 30 2012, by Matt Newman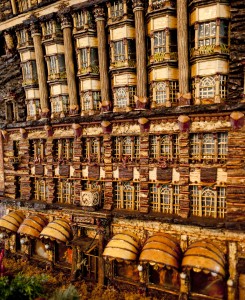 Whether you're coming in to catch the Holiday Train Show before December's crowds pile in, or to glean a bit of feathered wisdom from Debbie Becker's Saturday morning Bird Walk, this weekend is squarely focused on relaxation. Because we know that in between the crush of Thanksgiving, Black Friday, and winter holiday preparations, there's hardly a sliver of space to squeak in your chill time! Of course, at the NYBG there's a wider window for taking it easy.
With a light schedule and reasonable temperatures promised for Saturday and Sunday, this is your opportunity to explore 250 acres of New York City's finest natural sanctuary. If you're looking for activities, there's always the Bird Walk for picking up a new hobby, or maybe you'd rather take a load off with the heat on? For that, stop by the Holiday Train Show in the Enid A. Haupt Conservatory before hoofing it over to Ross Hall for a bit of history on our decades-long tradition.
Over in the education department, you can join in a two-hour rundown of the herbal arts through a course on making tinctures, salves, and oils from nature's bounty. And, of course, there's Gingerbread Adventures waiting for the kids in our Everett Children's Adventure Garden. Why would you even consider passing up a hand-decorated cookie (of your own artistic creation, of course) before leaving?