From the Field: Bill Buck in Cape Horn 2013, Day 20
Posted in Bill Buck, From the Field, Science on March 18 2013, by William R. Buck
January 30-31, 2013 Punta Arenas, Chile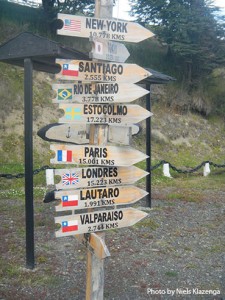 Our projected travel time back to Punta Arenas from Puerto Williams is 43 hours. But, before we set out, we have one last stop to make. Ernesto has arranged for us a private tour of the Museo Antropológico Martin Gusinde with the museum's director, another one of his friends, naturally. I toured the museum once about 10 years ago, but no one else on the trip has visited it before. The museum has a two-fold focus, documenting the culture of the Yaghan people and presenting the history of European exploration in the region. It is a well-maintained museum and quite the tourist attraction despite all the exhibits being presented solely in Spanish. The namesake of the museum, Martin Gusinde, was an Austrian priest who lived for extended periods with the Yahgan and documented their social and spiritual life in the early 1930s through photography and ethnography. It is a surprising little museum with well curated and exhaustive exhibits. I am glad to get the refresher course in both of the museum's foci.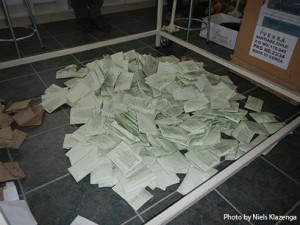 After our tour we begin transporting our collections and luggage down to the ship using a beat-up 1990 4WD Mitsubishi van that is made available to researchers at the field station. This poor van was our main transport during our earlier stay in Puerto Williams, too, and it has certainly seen better days. The driver's window is detached from its mechanism and can no longer be closed, and the rear door cannot be opened. It has occurred to me that upon returning home I will write to Mitsubishi to see if they will donate a new van to the Universidad de Magallanes. Japan imports many natural resources from Chile, and I hope in this one small instance they might be compelled to send something back in exchange!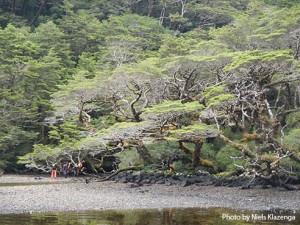 As we leave Puerto Williams for our long trip home, the sun shines brightly and the winds are calm. Is this yet another example of the influence of El Regalón, aka Paddy? Time will tell, but as we make our way up the Beagle Channel toward Ushuaia, the winds increase and the waters become rougher. In the early evening well pull into a small ranch on Isla Hoste so that the crew and Ernesto may purchase some fresh beef. This is the same place where the lamb for the beach barbecue came from, too, which now seems ages ago. I was asleep during that previous transaction. The seas have become much rougher, and so we eat dinner before leaving the small harbor. Since we are headed into the wind, the turbulence is greater than if we had the winds to our backs. Many of us retreat to our bunks early.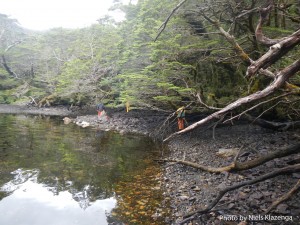 Earlier in this trip I thought we were headed to a magical old-growth southern beech forest on the west coast of Península Edwards that Blanka and I visited two years ago, but we confused ourselves (and the captain) and ended up on the wrong side of the peninsula. So, we decide to try one more time to visit this amazing forest. Although the trees have increased in size in my memory since the last visit, the site is still like visiting some kind of fairy land; large tree trunks utterly covered in liverworts and hornworts crisscross the forest like a giant game of Pick-Up Sticks. It is no easier getting around the forest this time than it was last time, but everyone is truly impressed by it, and it makes a great last collection site for our trip. Blanka and I are both able to find specimens that we had overlooked the last time we were here when we were completely overwhelmed with the habitat. Paddy had specifically requested an epiphyte-rich habitat at some point during the trip, and so when I ask him what he thinks of our current location, he confesses that there are actually "too many epiphytes!"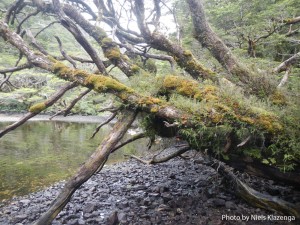 If this leg of the return trip is to be anything like the voyage out, the worst seas are soon on the horizon. While we are in a sheltered canal, the captain slows the ship down so that we may get a bit to eat before encountering these rough seas. In anticipation of the rough seas, I take to my bunk right after dinner and fall asleep. In the morning I can tell we hit some pretty rough water overnight; luggage is scattered all around the bunkroom and all the condiments from the galley tables are now on the floor. Juan tells me that at one point he woke up just before being thrown out of his upper bunk. I am quite glad I slept through it all!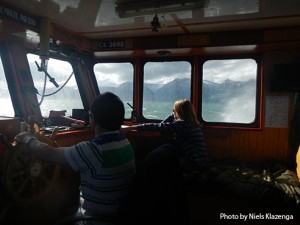 The winds have only increased this morning, and even the large port of Punta Arenas is closed. Fortunately, just like at Puerto Williams, this only affects outgoing vessels and we are able to dock without a problem. However, since we were unable to open the bodega with the dryers during the rough seas, we now have plenty to do emptying the dryers as well as packing up all our personal gear. In the meantime, Ernesto heads into town to get a van and we are able, in two trips, to get our luggage to the hotel, and our collections–both wet and dry–to the university. After spreading our still-wet collections out to dry–mostly from the previous day's collecting in the old-growth forest–we go to lunch. In all my times in Punta Arenas I have never been to the public market because it is outside of the downtown area. But today we decide to check it out on the captain's suggestion so that Blanka may try the local limpets. We could not sample them in the field because of a local occurrence of red tide, a toxic dinoflagellate that makes filter-feeding mollusks poisonous. Much to Blanka's disappointment, there are no limpets on the menu, but it is still the best seafood I have ever had in the city.
Now we are back at the hotel, all grateful for the opportunity of showers with unlimited hot water. Blanka and Laura are making their last hepatic oil body photographs, and I am able to get a quick look at the mystery Pottiaceae with apical gemmae, but still do not recognize it. María Cano has suggested, based on microphotographs we have emailed her, that the moss is Leptodontium proliferum, known from considerably further north.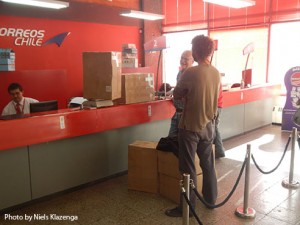 In the upcoming days we will get the last of our collections dry, boxed up, and shipped home. It all seems so anticlimactic after such a good three weeks. I don't think we could have ever dreamed of such good weather, and we were able (with and without naval permission) to get to almost every site we had hoped to reach; only the south coast of Isla Hoste remained unattainable. We'll try again next year when we will focus on the southernmost sector of our region, including the Wollaston and Hermite islands, including Isla Hornos. Our tentative plan for 2014 is to rent two ships and travel in tandem with a group of Spanish lichenologists. I am looking forward to exploring the Hermite Island, from which J.D. Hooker described many new mosses collected during the Erebus and Terror expedition of 1839-1843 when he and his team were trapped there for an extended period due to bad weather. I can only trust that we will not be handed the same fate.