From the Field: Bill Buck in Cape Horn 2013, Day 10
Posted in Bill Buck, From the Field, Science on March 4 2013, by William R. Buck
January 19, 2013, Prov. Antártica Chilena, Comuna Cabo de Hornos, Isla Hoste, Bahía Navidad, 55°24'S, 68°12'W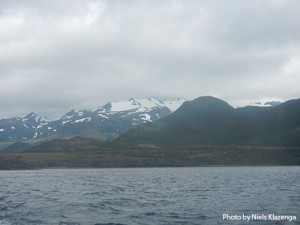 Today is our day to hit the northeast coast of Península Hardy. We moored last night in Bahía Tekenika and left for the peninsula at 5 a.m. We had been told it would take 3-4 hours to reach our first site, but we arrive at 7:30 a.m. Only Blanka and I are up and about. The day promises to be beautiful once again, with partly cloudy skies, almost no wind, and surprisingly warm temperatures. Everyone is complaining about how warm they are inside their rubber rain gear. It would be great if this weather holds up though, but given my previous experience, I cannot be too optimistic.
Our first site is Bahía Allen Gardiner (55°24'S, 68°19'W), named for an early British missionary who, while dying of starvation, maintained his diary and his optimism about establishing a settlement in this region.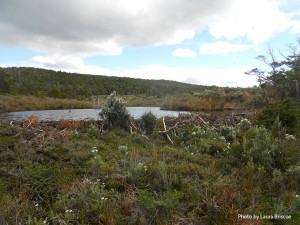 I ask to be dropped off near the mouth of a small inlet, at a small patch of large southern beech trees. Even with the 2 1/2 hours I have to collect, I know I will never get out of that small grove. Paddy and Niels start off with me but soon move on to what they hope are greener (or at least mossier) pastures.
My experience is that there are no bad collecting localities down here, only collectors too impatient to seek out the treasures. Having said that, I often start getting bored with a locality after about two hours. Today though, it takes only an hour before I start having diminished returns and at two hours I am having trouble finding things I want to collect. If I knew hepatics better and so could collect them critically, it would keep me occupied longer today. But usually with trying to collect all the moss species, lichens that catch my attention, plus bryophilous and lichenicolous fungi, I have plenty to keep me busy without hepatics. Today I am particularly pleased to find a large population of a large-statured Brachythecium. It's a genus I have been interested in for more than 35 years, but even more so since I taught a class on it just last summer (boreal summer that is) at Eagle Hill. For whatever reason, I am the only one to find it.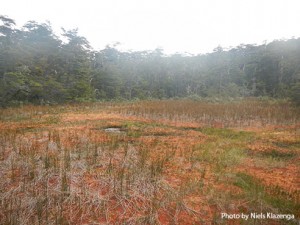 As we eat lunch, the ship moves to our next site, Bahía Navidad (Christmas Bay). I realized yesterday that at some point we had left the Alberto de Agostini National Park. I am curious as to why the park boundaries were drawn as they are and the appearance of two fishing vessels in Bahía Navidad offers a clue: This area was not included in the national park because it is used by commercial fishermen. I am told this is a site where our crew harvests king crabs in another season, and that these two ships are harvesting edible marine seaweeds which have a long cultural history in Chilean cuisine. We are kind of hoping to get a few king crabs from the other boats so that the new members of our team can try them when they are fresh from the sea.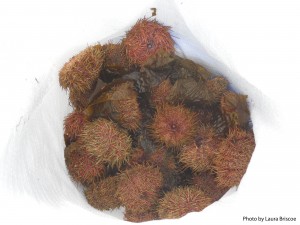 In the afternoon I ask to be dropped off near the mouth of the bay near some large rock outcrops. Because the tide is low, the Zodiac can't get right to shore, but the water is shallow so I just jump in. You would think that given how many times I have slipped on the alga-encrusted rocks down here that I would remember how slippery they are. Nevertheless, I jumped in only to slip and fall with the water going well above the top of my boots. In seconds I am upright again and the crew laugh when I smile and tell them when I want to be picked up. Not surprisingly, everyone–crew and scientists alike–know about my exploits by the time I am back on the ship.
The forest I am in has been heavily disturbed by generations of fishermen who seem to come ashore and cut down trees and camp. I still find enough nice material to keep me distracted until the Zodiac returns. Once back on the ship, I change from my wet pants and socks, wash the salt water from my legs, and put on dry clothes. Shortly afterward we are once again all aboard the ship.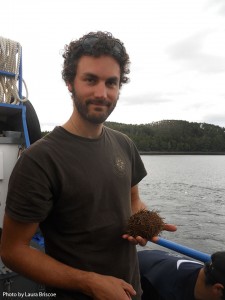 Sometime after dinner tonight we will leave for Puerto Williams arriving there about 6 a.m. tomorrow. What is unfortunate is that the captain says the weather we are having right now is ideal to go around the south shore of Isla Navarino. What makes this situation unfortunate is that we are scheduled to try to survey the south coast of the island next week, and who knows if the weather will be as good then? However, it is just possible that we have the talisman that will keep the bad weather at bay on board the ship! A few days ago the crew designated Paddy as "El Regalón" which roughly translates as "The Favored One." We have since come to refer to him–as he does to himself–as The Golden Boy. If all it takes to have non-stop good weather is to have Paddy on board, I'll take him on every trip!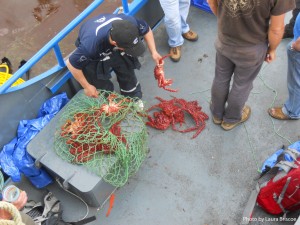 Moments after I think I have finished writing for the day, a fishing boat, about the same length as our ship but with a different design and conspicuously less well maintained, pulls up alongside our ship. Our crew know their crew. The local fishing community is close knit. It is a dangerous occupation–think "World's Deadliest Catch" and you won't be far off. Apparently our captain radioed them earlier to ask if they could catch enough king crab for us to have for dinner. I had asked him if such was possible back in Punta Arenas and am pleased it has actually come to be. It is illegal to commercially harvest the crabs now, during their breeding season, and perhaps it is even illegal to use traps during this time. Apparently, though, it is legal to catch individual crabs by diving, and we are lucky enough to get eight of them. Although Niels won't eat them (but he does want a taste), the rest of us are looking forward to the gourmet dinner.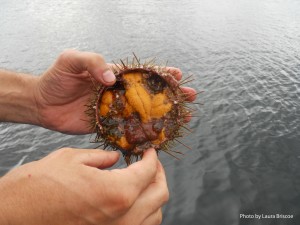 Also thrown into the bargain is a large sack (maybe two bushels) of sea urchins. The crew greedily begin cutting them open and slurping out the gonads. I'm afraid reproductive parts aren't really part of my diet, but John, Paddy and Niels give them a try, but seem to want something afterward to get the taste out of their mouths! The crew have cleaned a big bowl of them and I'm sure they will be eaten tonight. Just now Juan (a big sea urchin fan) has come in offering a sampling of king crab eggs which were exposed when cleaning the crabs. In general the consensus is that they are better than the sea urchin gonads. We're now looking forward to an amazing dinner.
Ed. note: NYBG scientist and Mary Flagler Cary Curator of Botany, Bill Buck has just returned from his annual expedition to the islands off Cape Horn, the southernmost point in South America, to study mosses and lichens. For the past two years he was able to file stories from the field, but this year's locations proved so remote he was forced to wait until his return. We will be publishing them over the course of several days. Follow his journeys on Plant Talk.
Bill Buck's Previous Reports From the Field:
2013

January 18, 2013, Prov. Antártica Chilena, Comuna Cabo de Hornos, Isla Hoste, Bahía Tekenika, 55°18'S, 68°39'W
January 17, 2013, Prov. Antártica Chilena, Comuna Cabo de Hornos, Parque Nacional Alberto de Agostini, Seno Ponsonby, Isla Hoste at Isla Grande, 55°11'S, 68°45'W
January 16, 2013 Prov. Antártica Chilena, Comuna Cabo de Hornos, Parque Nacional Alberto de Agostini, Isla Hoste, Bahía Helada, 55°05'S, 69°04'W
January 15, 2013, Prov. Antártica Chilena, Comuna Cabo de Hornos, Isla Hoste, Seno Ibáñez, Caleta Yekadahby, 55°04'S, 68°25'W
January 14, 2013, Prov. Antártica Chilena, Comuna Cabo de Hornos, Isla Grande de la Tierra del Fuego, Bahía Yendegaia, 54°50'S, 68°48'W
January 13, 2013, Prov. Antártica Chilena, Comuna Cabo de Hornos, Isla Grande de la Tierra del Fuego, Bahía Yendegaia, 54°50'S, 68°48'W
January 12, 2013, Prov. Antártica Chilena, Comuna Cabo de Hornos, Parque Nacional Alberto de Agostini, Isla Gordon, Bahía Tres Brazos, 54°59'S, 69°45'W
January 11, 2013, Prov. Antártica Chilena, Comuna Cabo de Hornos, Parque Nacional Alberto de Agostini, Isla Grande de la Tierra del Fuego, NE-most arm of Seno Courtenay, 54°34'34"S, 71°10'41"W
January 10, 2013, Punta Arenas, Chile
2012
February 5, 2012; Isla Londonderry, Puerto Fortuna, approximately 54º54'S, 70º26'W
February 4, 2012; Isla O'Brien, Caleta Americana, approximately 54º53'S, 70º23'W
February 3, 2012; Isla Grande de Tierra del Fuego, Fiordo Garibaldi, approximately 54º58'S, 69º49'W
February 2, 2012; Isla Gordon, middle arm of Bahía Tres Brazos, approximately 54º58'S, 69º41'W
January 31, 2012; Isla Gordon, Bahía Romanche, 54º57'S, 69º30'W
January 30, 2012; Isla Gordon, Bahía Romanche, 54º57'S, 69º30'W
January 29, 2012; Canal O'Brien, on the way to the Brazo Noroeste of the Beagle Channel, approximately 54º55'S, 70º35'W
January 25, 2012; Isla Darwin, Caleta Virginia, approximately 54º57'S, 70º10'W
January 24, 2012; Unnamed sound off Isla Whittlebury, in Bahia San Jorge, west of Isla Hoste, approximately 55º16?S, 70º00?W
January 23, 2012; Arm of Estero Webb, SW coast of Isla Hoste, approximately 55º14'S, 69º41'W
January 22, 2012.; Unnamed sound on Isla Gordon behind Cabo El Gorro, approximately 55º02'S, 69º48'W
January 21, 2012; Isla Hoste, Estero Fouque, 55º1'S, 69º35'W
January 20, 2012; Isla Hoste, Estero Fouque, approximately 55º11'S, 69º35'W
January 19, 2012; Chile, unnamed sound on north-central coast of Isla Hoste, approximately 55º00'S, 69º12'W
January 18, 2012; Canal O'Brien, just south of Isla O'Brien, 54º55'S, 70º35'W
January 17, 2012; Punta Arenas, Chile
2011
July 15, 2011; Hobart, Tasmania, Australia
July 14, 2011; Pyengana, Tasmania, Australia
July 13, 2011; Weldborough, Tasmania, Australia
July 12, 2011; Hobart, Tasmania, Australia
July 11, 2011; Hobart, Tasmania, Australia
February 8, 2011; Punta Arenas, Chile
February 5, 2011, unnamed sound northwest of Isla Georgiana
February 4, 2011, unnamed sound directly east of Seno Mama, Chile
February 2, 2011, Seno Courtenay, northern arm, Chile
February 1, 2011, Seno Courtenay, Chile
January 31, 2011, Canal between Isla Georgiana and Isla Clementina,, Chile
January 30, 2011, Unnamed sound on south side of Brecknock Peninsula, NW of Isla Georgiana, Chile
January 29, 2011, Isla Aguirre, Seno Quo Vadis, Chile
January 26, 2011, Punta Arenas, Chile
January 24, 2011, Seno Chasco, just north of isthmus to Brecknock Peninsula, Chile
January 23, 2011, Isla Grande de la Tierra del Fuego, Puerto Consuelo, Seno Chasco, Chile
January 22, 2011, Isla Grande de la Tierra del Fuego, Seno Brujo, Chile
January 21, 2011, Isla Grande de la Tierra del Fuego, Seno Brujo, Chile
January 20, 2011, Isla Grande de la Tierra del Fuego, Seno Bluff, Chile