Posted in Kiku on September 30 2013, by Matt Newman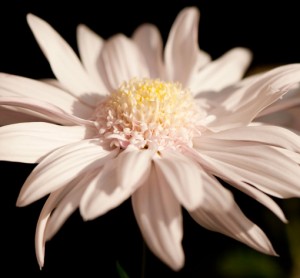 A couple of us hopped a golf cart over to the Nolen Greenhouses for Living Collections last Friday, hoping to catch a peek at Kodai Nakazawa's chrysanthemum sculptures before horticulture carefully moved them off to the Enid A. Haupt Conservatory. I use the word "sculptures" because it's the most accurate way to explain Kiku: The Art of the Japanese Garden—a simple "flower" designation doesn't do the plants justice in the context of this exhibition.
Each mountain, or waterfall, or burst of fireworks begins as a single young chrysanthemum, tediously cared for and trained into myriad forms by Nakazawa. Some designs are original, some informed by centuries of tradition. But each one is the end result of one of horticulture's highest arts, a discipline our visiting gardener learned from experts at Tokyo's Shinjuku Gyoen National Garden.