Green Industry Intern Field Day
Wednesday, July 18, 2018
11 a.m. – 8 p.m.
6th Annual Intern Field Day
With Keynote Speaker—Ahmed Hassan
Join NYBG and the School of Professional Horticulture for its annual event for interns and seasonal employees involved in the green industry. This free industry-sponsored event features remarks from top horticulturists around the Tri-State Area. Come view the Garden's collections and talk with our Horticulture curators, test your plant ID skills with a contest, and conclude the day with food and refreshments, games, and prizes.
The School of Professional Horticulture is proud to announce that the 2018 keynote speaker will be Celebrity Landscaper Ahmed Hassan. Ahmed is best known as the original host and co-creator of Yard Crashers, Blog Cabin, and Turf War on DIY and HGTV networks. Outside of television he's the owner and sole proprietor of Ahmed Hassan Landscape Services (AHLS), a landscape design, construction, and garden installation company in Northern California.
While at NYBG, you will have the opportunity to view the latest exhibition Georgia O'Keeffe: Visions of Hawai'i.
People who register before June 30 can win a $75 gift card. Two winners will be drawn.
R.S.V.P. with the name and e-mail address of each person attending, and the name of your organization to Eric Lieberman at 718.817.8580 or elieberman@nybg.org. Space is limited to one supervisory staff member per group of interns or seasonals.
Program of Events
11 a.m.—Early Check-in
Lunch on Your Own (Pine Tree Café open all afternoon)
12:30–3 p.m.—Arthur and Janet Ross Lecture Hall
Welcome: Todd Forrest, Arthur Ross Vice President for Horticulture and Living Collections, NYBG
My Stories:

Jack Algiere—Farm Director, Stone Barns Center for Food and Agriculture
Tatiana Morin—Director, Urban Soils Institute, Brooklyn College
Shephali Patel—Farmer, The Youth Farm
Chris Roddick—Arborist & Foreman of Grounds, Brooklyn Botanic Garden
Jessica A. Schuler—Director, Thain Family Forest, NYBG
Keynote Address: Ahmed Hassan
3–5 p.m.—Site visits to the new Edible Academy, Green Materials Recycling Center (composting facility), plant ID contest, and more!
5:30 p.m. to dusk—BBQ in the new Edible Academy with games, prizes, and more.
Speakers
Ahmed Hassan, best known as the host and co-creator of Yard Crashers, Blog Cabin, and Turf War on DIY and HGTV network. He owns and operates Ahmed Hassan Landscape Services (AHLS), a landscape design, construction, and garden installation company in Northern California, and regularly travels the country hosting workshops, speaking engagements and performing philanthropy with his group of "Sustainable Heroes".


Jack Algiere is farm director at The Stone Barns Center for Food and Agriculture. Jack graduated from the University of Rhode Island with a degree in horticulture and has been actively farming since the early 1990s. His lifetime of experience in organic, biodynamic and ecological systems brings a broad diversity of experience in greenhouses, orchards, fields and pastures. Jack plays the drums, is captain of the local volunteer fire department, and sits on the board of Johnny's Selected Seeds.


Tatiana Morin co-founded and was subsequently named Director of the NYC Urban Soils Institute. She was a member of the steering committee for SWIM NYC (Stormwater Infrastructure Matters) and served as a Stormwater Technician for NYC Soil and Water Conservation District. Currently, she is working on her Masters in Environmental Science while overseeing operations for the Urban Soils Institute in five programming areas.


Shephali Patel is a farmer, educator, and writer. Her work is split between building models that display the interconnections between soil, agriculture, and ecological health; and empowering others to use this knowledge to create positive change in their communities. Shephali has worked at The Youth Farm, Snug Harbor Heritage Farm, and The Jane Goodall Institute, among others. Her latest published essays include "Darshan" in Spiritual Ecology (2nd edition, 2016) and "Sacred Soil" in Parabola Magazine (Fall 2017).


Christopher Roddick is Arborist and Foreman of Grounds at the Brooklyn Botanic Garden. For over 20 years, he has developed the Garden's tree care program where he specializes in conservation arboriculture and veteran tree care. In addition, Chris consults with landscape architects and private clients on mature tree preservation and tree protection in construction and development sites. He is the author of, The Tree Care Primer a guide to care for young, mature, and veteran trees.


Jessica A. Schuler, Director of the Thain Family Forest, is responsible for the management of the 50-acre, old growth urban forest including ecological restoration and the development of education and research programs. Jessica earned a BS in plant science with distinction in research from Cornell University, is an ISA-certified arborist, and a Certified Ecological Restoration Practitioner with the Society for Ecological Restoration.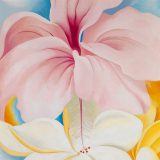 SEE GEORGIA O'KEEFFE: VISIONS OF HAWAI'I
During your visit, explore the plants and art of Georgia O'Keeffe: Visions of Hawai'i.
Thanks to our 2018 Sponsors!
Vibranium Sponsors
Central Park Conservancy
Etain, LLC
Flora Landscape, Ltd.
High Glen Gardens
Gold Sponsors
Bartlett Tree Experts
Landcraft Environments, Ltd.
M. Bulfamante & Sons
Marijuana Policy Project
Silver Sponsors
C&C Landscape Contractors, Inc.
N.Y. State Arborists
Riverside Park Conservancy
The Bronx Brewery