Posted in People on March 18 2019, by Plant Talk
As part of #plantlove at NYBG, we're talking with people from all over the Garden about what inspires their passion for plants. Today, meet Cecilia Zumajo, Ph.D. student at the Garden.
---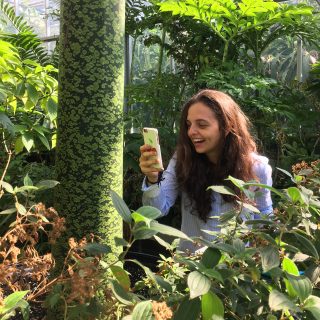 My Name is Cecilia Zumajo, and I am a Ph.D. student here at the Garden. I'm studying plant evolution and development, specifically seed ovules and seed development in gymnosperms. I grew up in Colombia, and growing up in a neo-tropical country exposed me to the enormous diversity of flowers and fruits, in terms of shapes, colors, textures—everything! So I started looking at fruits specifically, and all of the genetics underlying the diversity of fruits.
When I came here, the landscape was so very different. Mostly gymnosperms, such as pine trees, ginkgo, all of those. I started looking at them differently because in Colombia I didn't like gymnosperms at all. For me, they were an invasive thing—we actually have a lot of zamias and cycads originally from Colombia, which are great, but we also cultivate a lot of pine trees for wood. I only knew the pine forest, which impacted the soil by making it more acidic. After the pines, nothing else would grow in that spot.