Posted in Around the Garden, Darwin's Garden, Gardens and Collections, The Orchid Show on March 29 2012, by Joyce Newman
Joyce H. Newman is the editor of Consumer Reports' GreenerChoices.org, and has been a Garden Tour Guide with The New York Botanical Garden for the past six years.
---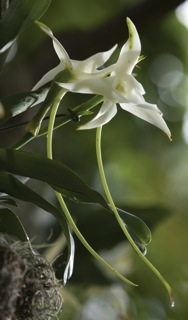 Of the many thousands of orchids on display during the Orchid Show, the two most requested flowers are the vanilla orchid and what is known as Darwin's orchid. However, due to their bloom schedules, neither is currently on display in the Conservatory. Those wishing to learn more about the vanilla orchid can scan a QR code on a sign in Conservatory gallery five (just off the Palm Dome to the left) to better understand the world's only orchid-based flavoring. In the meantime, those wishing to learn about Darwin's orchid can read on.
Several amazing Darwin star orchids have been blooming in the Rotunda located in the Library building at the NYBG. The exquisite ivory, star-shaped blossoms (Angraecum sesquipedale) are famous for their association with Charles Darwin and his theory of evolution.