Posted in Around the Garden, Darwin's Garden, Gardens and Collections, The Orchid Show on March 29 2012, by Joyce Newman
Joyce H. Newman is a Garden Tour Guide with The New York Botanical Garden.
---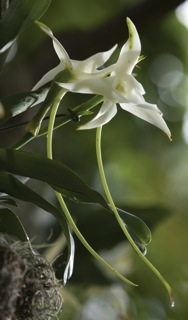 Of the many thousands of orchids on display during the Orchid Show, the two most requested flowers are the vanilla orchid and what is known as Darwin's orchid.
The exquisite ivory, star-shaped blossoms of Darwin's star orchid (Angraecum sesquipedale) are famous for their association with Charles Darwin and his theory of evolution.