Posted in Children's Education on February 10 2016, by Plant Talk
Patricia Caracappa is a Spanish Teacher at Howitt Middle School in Farmingdale.
---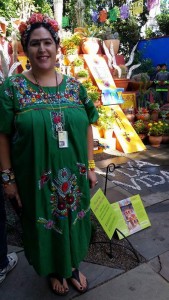 I am a teacher certified in both Art and Spanish who visited the FRIDA KAHLO: Art, Garden, Life exhibition on three separate occasions. As I experienced the show in three different ways during a five month period, both with my students and on my own, each visit left me speechless. Here I hope to give voice to my special experiences at the Garden.
My students at Howitt Middle School first experienced the rich offerings of Children's Education programs related to the exhibition when FRIDA KAHLO opened in May. During the Poetry for Every Season: Mexican Poetry Walk offered by the GreenSchool, my 7th grade Spanish students were challenged to find the connections between the lives of two significant contemporary Mexican artists: the painter Frida Kahlo and the poet Octavio Paz. Examining the thematic images in Kahlo's artwork and comparing them to the written themes they identified in Paz' poetry—in Spanish, too!—my students discovered for themselves the significance of the specific choices artists make to communicate ideas they care deeply about both visually and linguistically. This facilitated program revealed seamlessly the artists' close observation and symbolic uses of plants, their Mexican nationalism, and their deep appreciation for the natural world.