Posted in Programs and Events on July 3 2014, by Lansing Moore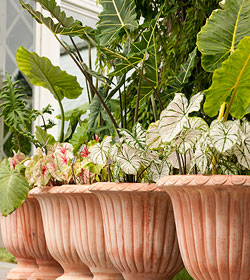 Happy Independence Day! The Fourth of July is tomorrow, and another well-deserved long weekend is just around the corner. If you're looking for something to do in between barbecue and fireworks, the Garden will be open to visitors this Friday from 10 a.m. to 6 p.m.. The Garden invites you to celebrate America's history with the little ones at SousaKazooza! This musical trip through the world of John Philip Sousa will have kids making their own music to celebrate, and it only takes place over holiday weekends.
Seeing as our summer exhibition—Groundbreakers: Great American Gardens and The Women Who Designed Them—is in full swing with exhibits and activities throughout the Garden, the most patriotic day of the year is certainly a good time to celebrate our horticultural history.
As summer rolls on, the Garden continues to grow more beautiful each day. Read on for all the ways you can explore the greatest green escape in the city this weekend!