Posted in Environment on August 23, 2019 by Brian Boom
Brian M. Boom, Ph.D., is Vice President for Conservation Strategy at The New York Botanical Garden.
---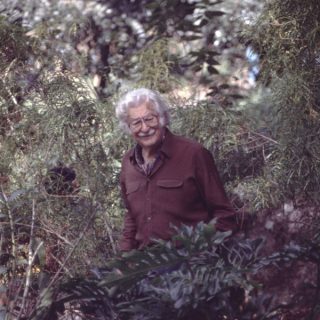 The recent report about the fires in the Brazilian Amazon compels us to reflect on how painful the Amazonian fires would have been to Roberto Burle Marx (1904–94), one of Brazil's earliest and most important advocates for the rain forest and the subject of our current major exhibition, Brazilian Modern: The Living Art of Roberto Burle Marx.
A renowned landscape architect, Burle Marx was also a passionate, outspoken conservationist. His writings on environmental topics in Brazil—powerful when written a half-century ago—have a renewed, relevant resonance in 2019. For example, in Burle Marx: Homenagem à Natureza¹, he is quoted as saying, "You have to understand that it is my obligation to oppose everything that I consider an ecological crime … the sacrifice of nature is irreversible." In 1969, he wrote: "This destruction [of forests] represents an attack on humanity, an affront to the sources of life, and an assured means of destroying future generations."² A more powerful, fitting response to the news of the Amazonian fires could not be penned today.