Posted in Interesting Plant Stories on October 31, 2016 by Lisa Vargues
Lisa Vargues is a Curatorial Assistant at The New York Botanical Garden's William and Lynda Steere Herbarium. Her work includes digitizing plant specimens, historical and new, from around the world for the C. V. Starr Virtual Herbarium.
---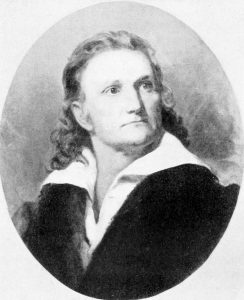 As the William and Lynda Steere Herbarium continues to digitize its 7.8 million preserved plant specimens for online access, one of the exciting aspects of our work is the opportunity to uncover a wide variety of historical treasures. Four specimens in particular recently grabbed my attention. Based on the label data, these pressed plants, suddenly pulled from obscurity, were collected during John James Audubon's Quadrupeds expedition.
Born in Saint-Domingue (now Haiti) in 1785, naturalist and painter Audubon moved to France during childhood and permanently to the United States as a young man. Audubon's name has long been synonymous with beautiful and dramatic paintings of birds in their natural habitats. The 435 life-sized paintings in his published work The Birds of America (1827-38, Havell Edition) continue to be treasured for their iconic style—most notably in 2010, when a first edition of this collection sold at Sotheby's in London for a record-breaking $11.5 million.