Posted in Garden News on May 8 2019, by Plant Talk
By Kristine Paulus, Plant Records Manager; Deanna F. Curtis, Senior Curator of Woody Plants and Landscape Project Manager; and Todd Forrest, Arthur Ross Vice President for Horticulture and Living Collections.
---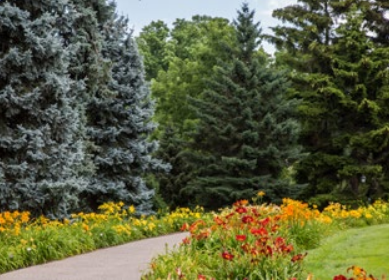 NYBG's 250-acre National Historic Landmark landscape and two glasshouses feature 50 gardens and collections that comprise more than one million plants. Well-maintained and displayed collections show the diversity of the plant kingdom and enrich the experience of all who see them. Beautiful displays make visitors stop and examine plants more closely and learn more from their experience, thus fulfilling NYBG's mission. More than 90% of the plant collections are accessible to visitors every day the Garden is open. All of the plants in the collections are available for research purposes as needed by members of NYBG's Science Division staff.
Collections are displayed in many ways. They may be incorporated into the landscape, as are the conifers in the Benenson Ornamental Conifers, featured within dedicated gardens, such as the Peggy Rockefeller Rose Garden, presented in organized beds, such as Daylily/Daffodil Walk, or combined in educationally themed and interpreted displays, as in the Upland Tropical Rain Forest Gallery of the Haupt Conservatory. Additionally, collections are displayed in themed exhibitions, such as the annual Orchid Show.