Posted in Horticulture on September 13 2017, by Kristine Paulus
Kristine Paulus is NYBG's Plant Records Manager and Becky Thorp is the Senior Plant Recorder. They are responsible for maintaining the records of the Garden's living collections.
---
Lush green lawns, majestic trees, and artfully designed flower gardens may be the first thing visitors notice when they arrive at NYBG, but as a botanical garden, our mission goes well beyond the creation of a beatiful landscape. For 125 years, NYBG has served as a cultural and educational institution where anyone can learn about horticulture and botany. One of the simplest and most effective ways we carry out this part of our mission is through the documentation, tracking, and labeling of plants. Just as visitors to an art museum learn to tell a Titian from a Twombly by reading display labels next to each work, botanical garden-goers learn to differentiate a tulip from a trillium by looking at plant labels.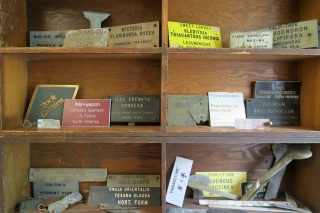 Every aspect of labeling the garden's tens of thousands of plants, including research, database work, production, and placement of labels in the landscape, is managed by the Plant Records Department.