Posted in Gardening Tips on June 25 2014, by Sonia Uyterhoeven
Sonia Uyterhoeven is the NYBG's Gardener for Public Education.
---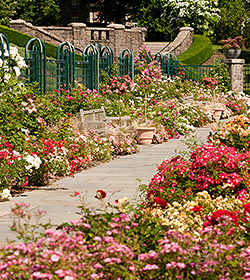 The roses in the Peggy Rockefeller Rose Garden demanded a lot of patience this year, but it was well worth the reward. The harsh winter resulted in severe die back for many of the hybrid teas and floribundas, so we cut them back hard in the spring and gave them a jolt of nitrogen-rich fertilizer to get them going.
The cool spring had the roses growing at a slow and steady pace and they sat in bud throughout the month of May, waiting for warmth. Generally, our roses start to open around the third week in May and peak bloom spans from the end of May into the first few weeks of June. This year the old-fashion garden roses were pretty much on schedule but our repeat-bloomers were a good two to three weeks behind.
The warm weather finally arrived, and it was certainly worth the wait. To call the roses resplendent would be an understatement. I drove by late last week and my view from the top of the hill was a mosaic of colors as vibrant as an Andean textile.