Posted in Travelogue on January 31, 2014 by Fabian Michelangeli
Fabian A. Michelangeli, Ph.D., is an Associate Curator of the Institute of Systematic Botany at The New York Botanical Garden. His research focuses in part on the evolution, identification, and classification of neotropical plants. This is the second of four posts about an expedition last year to Suriname in northeastern South America.
---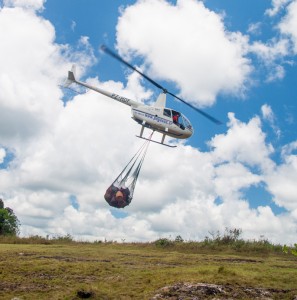 As I recounted in last week's post, it took Basset Maguire, a famous New York Botanical Garden scientist of the mid-20th Century, more than six weeks to travel to the base of Tafelberg, a "table mountain" in central Suriname. It took our team of six scientists and five support staff just over an hour to fly from Paramaribo, Suriname's capital. Yet we still faced the same problem that Maguire had of getting our equipment and team to the summit, nearly 3,400 feet above our base camp.
In our case, the cargo included all of our food and camp essentials for two weeks, plus all the equipment to collect, study, and document the many different groups of organisms targeted by the expedition: plants, aquatic insects, frogs, lizards, snakes, and fish. Altogether, we needed to move about 1,200 pounds and 11 people to the summit. Once again, we had a faster method that wasn't available to Maguire: a helicopter.