Posted in Interesting Plant Stories on August 25, 2016 by Colette Berg
Colette Berg, an intern in the William and Lynda Steere Herbarium at The New York Botanical Garden, recently graduated from Fordham University, where she studied environmental science. In January, she will begin a Master's in Biology program at Southeast Missouri University, focusing on plant ecology.
---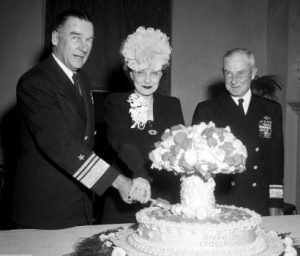 Every day as an intern at the William and Lynda Steere Herbarium, I transcribe the labels on pressed plant specimens so data about the specimens can be made accessible online. As I type out the collector's name, date of collection, and location, I catch a glimpse of the stories behind the specimens—stories of science and politics and history.
Recently, one particular label caught my eye. In 1946, William Randolph Taylor, a University of Michigan botanist who specialized in algae, traveled to the Marshall Islands in the South Pacific with Operation Crossroads, a military mission to test atomic bombs at the remote Bikini Atoll. Taylor's 1990 obituary described him as a man who "worked in the years of brass-fitted monocular microscopes" and "entered the sea in long rubber boots while holding a glass-bottomed bucket." Before the bombs were detonated, Taylor surveyed the vegetation on the island. One can imagine him peering through his bucket in the surf as he collected some of the specimens shown here.