Posted in Bill Buck, From the Field, Science on January 31 2012, by William R. Buck
January 17, 2012; Punta Arenas, Chile

As I begin writing, we are pulling away from the main municipal dock in Punta Arenas, and are beginning our 2012 expedition. (Read about all of Bill's 2011 adventures here.)
We have a large group this year, with eleven scientists and five crew. Out of the ten flying into Punta Arenas, only four made it on time. I arrived eight hours late due to mechanical problems in Atlanta causing me to miss my connection in Santiago. From Santiago I was scheduled to fly to Punta Arenas, on Sky, but when I arrived late, they told me that there was nothing they could do that day and that they had no responsibility to do so. So, I went to the larger airline, Lan, and was able to purchase a new ticket for later that same day; almost surely cheaper than a hotel and dinner in Santiago! When I arrived in Punta Arenas at around midnight, I found an empty airport completely devoid of taxis.
Our Chilean collaborator Juan Larraín, also had a Sky flight to Punta Arenas that was delayed–he was stranded at his layover in Puerto Montt and arrived four hours late. This is not an airline I intend to use again! Matt von Konrat, of the Field Museum in Chicago, also found himself delayed and had to spend the night in Dallas/Fort Worth. He arrived about eight hours late, finally landing in Punta Arenas around 3 a.m. After my late-night, taxi-less arrival, I knew Matt would have the same problem. Seeing as he speaks very little Spanish, Juan and I arranged for a taxi to pick us up at our hotel at 2:15 a.m., take us to the airport, wait, and bring us all back to the hotel. When Matt arrived in the baggage claim area, he looked very tired and weary, but his facial expression changed immediately to one of relief when he spotted us waiting for him.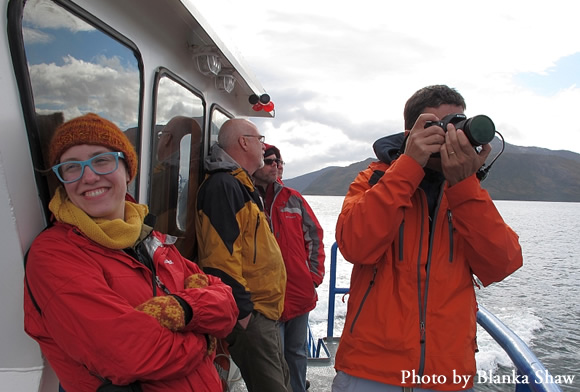 Returning for a second expedition is Blanka Shaw from Duke University, as well as Matt (who has made a really great project website), Juan, and our facilitator/scientist, Ernesto Davis. I don't think I can count how many trips Ernesto made to the airport, especially with all the missed and canceled flights. He is our hero.