Posted in Emily Dickinson, Exhibitions, Programs and Events on April 30 2010, by Plant Talk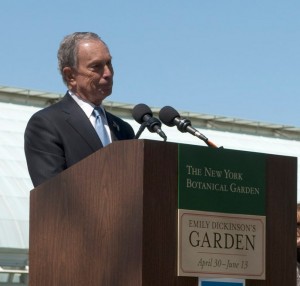 Mayor Bloomberg, Sigourney Weaver, State Poet Kick Off Exhibition
During her lifetime, Emily Dickinson
(1830–1886) was better known as a gardener than as a poet. Plants and flowers significantly influenced her poetry and other writings, most of which were not published until after her death. The Garden's exhibition, Emily Dickinson's Garden: The Poetry of Flowers, co-presented with the Poetry Society of America, illuminates this American poet's life and work, the connections that exist between her life and poems, and her study and love of flowers and gardens.
The show features a re-creation of Dickinson's home and garden in the Haupt Conservatory, an exposition about her life in the Mertz Library, and a Poetry Walk, a self-guided tour, with Dickinson's poems on signs located among the Botanical Garden's collections, near the flowers that inspired her.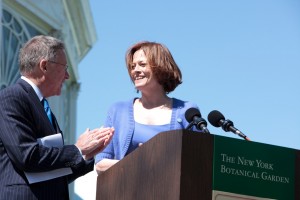 Yesterday, the Garden kicked off the exhibition with Poem in Your Pocket Day. We celebrated with Mayor Bloomberg, Sigourney Weaver, Garden President and CEO Gregory Long, State Poet of New York Jean Valentine, and 5th grader Lanasia McMillan of P.S. 46 reading poems by and inspired by Emily Dickinson. The Mayor even wrote his own New York City version of Hope is a thing with feathers. Live tweeting during the program definitely put a modern feel to the classic poetry.
The Big Read Marathon Poetry Reading and other kickoff events for Emily Dickinson's Garden continue all weekend.
It's not too late to sign up to read your favorite Dickinson poems. Click here.
Bring the family! The Children's Poetry Garden is filled with flowers and the words of Emily Dickinson. Kids catch the inspiration and then can draw, color, and write their own poetry in a field notebook to take home.
In a live one-woman performance, The Belle of Amherst, actress and author Barbara Dana presents the life and poetry of Dickinson.
Enjoy garden lectures, home gardening demonstrations, tours, and more!
Don't miss out. The forecast looks great for the next few days, and the Poetry Walk in the Garden is the perfect way to spend a sunny day.