Posted in Gardens and Collections on March 31 2014, by Lansing Moore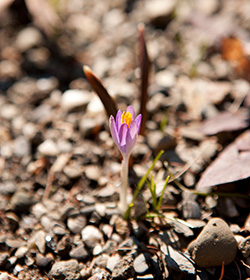 On April 1, the Rock Garden reopens for the season after an extensive, winter-long restoration of its historic features! Visitors will be able to admire water running down the cascade and into the pond for the first time in years. After remaining dry for so long, the stream is now active again, as well as more water efficient.
The soft bubbling of the stream accompanied by the wind rustling the branches has defined the tranquility of the Rock Garden since its establishment in the 1930s. Originally a project of the Depression-era Works Progress Administration, the Rock Garden was showing its age and was in great need of restoration. Head through for a sneak peak at the final product before tomorrow's debut!