Posted in Holiday Train Show on December 31 2013, by Ann Rafalko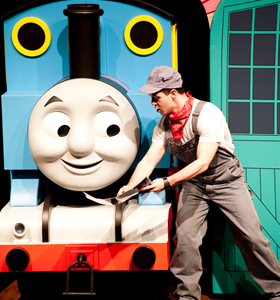 What's better than the Holiday Train Show? How about when we combine the Holiday Train Show with All Aboard with Thomas & Friends! That's right, starting on New Year's Day your train-crazy little ones can get a double dose of all things train in one single day (and if you take Metro-North Rail Road to Botanical Garden Station, that's a triple dose of all things train!).
Running through January 26, your kids can join Thomas and Driver Sam on a new fun-filled, sing-along, mini performance adventure by helping them decorate the station in time for the big Sodor surprise party before the guest of honor arrives! At the end, be sure to have your camera ready for an exciting photo op with the stars of the show!