Posted in Learning Experiences on June 25 2015, by Ursula Chanse
Ursula Chanse is the Director of Bronx Green-Up and Community Horticulture and Project Director for NYC Compost Project hosted by The New York Botanical Garden. For more information about these programs and upcoming workshops and events, please visit Bronx Green-Up.
---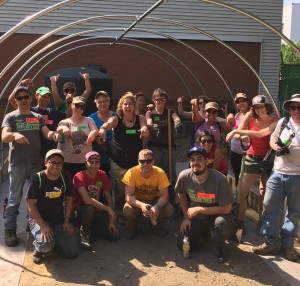 During the dry days of May, In Good Company, a collaboration of values-driven businesses spearheaded by Clif Bar & Company, brought together individuals from across the country and Canada to be put to work in the South Bronx. Two week-long service projects in early and late May took place at Brook Park, a thriving community garden bordered by schools and an accessible resource for learning and play in the urban outdoors.
In appreciation, Harry Bubbins, Director of Friends of Brook Park, had this to say:
"Thanks to the expertise and incredible support from the staff at Bronx Green-Up of The New York Botanical Garden and GrowNYC, along with the In Good Company consortium and all their company members and employees, we have entirely transformed our almost one-acre site here in the South Bronx. We are honored to continue to receive the support of Bronx Green-Up and the partnerships and resources they are able to leverage for community gardens like ours. Without them The Bronx would be a lot less green."