Posted in Adult Education on January 30 2014, by Lansing Moore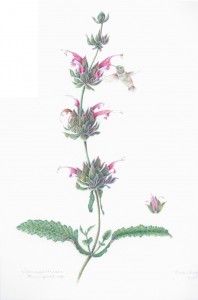 This month's featured alumna is Nina Antze, who holds an NYBG Certificate in Botanical Art & Illustration. While she is currently teaching colored pencil in California, Nina was initially a quilt maker with a degree in Fine Art from San Francisco State University before coming to the NYBG's Certificate Program. She now teaches botanical art students of her own, including those at the Botanical Illustration Certificate Program at Filoli Gardens outside of San Francisco. We asked her to guide us along the path that brought her to the NYBG and a new career.
What made you pursue a Botanical Art & Illustration Certificate with NYBG? Were you looking for a new career, or just a hobby?
NYBG introduced me to the world of Botanical Illustration. I started taking colored pencil classes when we moved from California to New York, and it was basically to meet people. My new friend Jane found NYBG instructor Carol Ann Morley's Colored Pencil class; after that we took Laura Vogel's drawing class and we really wanted to continue. I was not thinking of a new career, but I fell in love with drawing all over again and I loved having all the plants in the world for possible subjects.