Posted in Gardening Tips on November 1 2011, by Sonia Uyterhoeven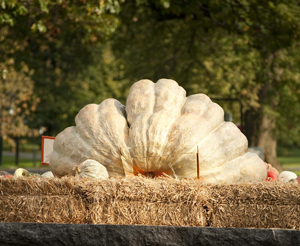 For the past two weekends, The New York Botanical Garden has been abuzz with the return of the giant pumpkins. We had four mega pumpkins shipped in from different parts of the U.S. and Canada. Their weight ranged from 1,693 to 1,818.5 lbs. With colors ranging from a cheerful orange hue to pale orange, green, and silver gray, it made for a fascinating variety of size and color.
They were all reclining on multiple bales of hay like Ingres's Odalisque in a somewhat regal and enticing fashion, surrounded by a harem of smaller heirloom pumpkins and gourds.
Before the exhibition opened, I arrived early one morning to see the pumpkin aficionados carve an opening in the back of the pumpkin and carefully remove all the seeds. De-seeding the pumpkins is an integral part of the process. Not surprisingly, the seeds are jumbo sized, just like their parents. Seeds of these record-sized pumpkins go to an auction where they are generally sold for $300 a seed. Just last year one of the seeds sold for $1,600.