Posted in Interesting Plant Stories on May 6, 2016 by Stevenson Swanson
Stevenson Swanson is the Science Media Manager at The New York Botanical Garden.
---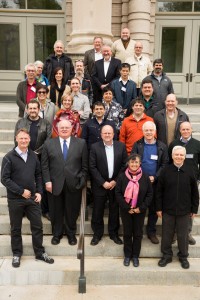 As if assembling a comprehensive, scientifically verified database of more than 350,000 plant species were not a daunting task to begin with, try doing it in only four years. That's the ambitious goal the scientists working on World Flora Online (WFO) are racing to meet.
When it's up and running, WFO will provide scientists, conservationists, political leaders, and other policy-makers with information they need to protect one of Earth's most important resources—its plants.
More than two dozen of the world's leading plant scientists gathered at The New York Botanical Garden recently to review the progress that has been made on WFO and to plan the way forward so they can meet the goal of completing the database in 2020, which was established in the Convention on Biological Diversity, an international agreement.
As part of a week-long series of meetings at the Botanical Garden, several of the participants spoke about specific aspects of this monumental project during a symposium on Wednesday, April 27, in the Garden's Ross Hall.
The presentations began with introductory remarks by Barbara M. Thiers, Ph.D., the Garden's Vice President for Science Administration and the Patricia K. Holmgren Director of the William and Lynda Steere Herbarium. She noted that the Garden is one of four leading botanical institutions that are working together to coordinate the efforts of scientists and institutions around the world to create this first-of-its-kind online resource.