Posted in Learning Experiences on September 5, 2017 by Stevenson Swanson
Stevenson Swanson is the Science Media Manager at The New York Botanical Garden.
---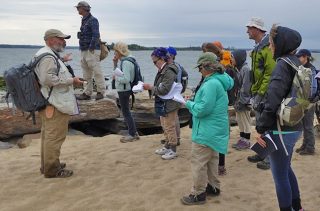 Even in this teeming metropolis, nature is all around us. You just have to look for it. But it helps to know what you're looking for and what you're seeing when you've found it.
That's where The New York Botanical Garden's Urban Naturalist Program comes in.
Called "life-changing" by students who took the course this spring, the fall Urban Naturalist Program will equip you with the observation, interpretation and documentation skills necessary to become a citizen scientist and an effective environmental steward. Led by Mike Feller, our team of expert naturalists, including Ken Chaya and Nancy Slowik, will use the Botanical Garden's grounds and select New York City parks as living labs to investigate the interrelationships between species and discover how our urban environment sustains those ecosystems.