Posted in Interesting Plant Stories on October 25, 2017 by Science Talk
Brian M. Boom, Ph.D., is Vice President for Conservation Strategy and Bassett Maguire Curator of Botany at The New York Botanical Garden. Ina Vandebroek, Ph.D., is NYBG's Matthew Calbraith Perry Assistant Curator of Economic Botany and Director of the Caribbean Program.
---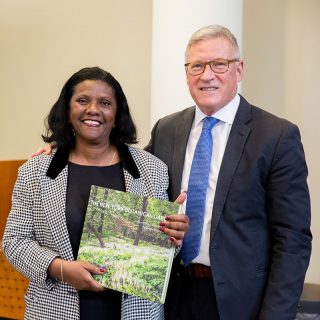 The New York Botanical Garden and Cuba's National Botanical Garden (Jardín Botánico Nacional, or JBN) have a history of collaboration that spans no less than five decades on numerous specific plant research and conservation initiatives. Science Talk has chronicled some of the more recent ones here, here, and here.
Earlier this month, Nora Monterrey, JBN's General Director, and Alejandro Palmarola, Head of Conservation Program at JBN, visited NYBG to launch an exciting new era for collaboration between our two institutions. The discussions about this renewed commitment for collaboration began in Havana in July 2015, when one of us (Brian) went to Cuba to meet Nora as the new General Director of JBN and to discuss how our institutions could best join forces on cutting-edge science or conservation projects.
However, in a visionary move, Nora Monterrey proposed to take our collaboration to the next level. Instead of a specific agreement for a specific collaborative project, she envisioned establishing a wide-reaching umbrella agreement, spanning multiple years. This approach, which is laid out in a Memorandum of Understanding (MOU), will promote all sorts of collaborative initiatives between our institutions–not only science and conservation but also other programmatic areas such as education, horticulture, and exhibitions, as well as support areas, such as marketing, outreach, and sustainable tourism.