Posted in Events on June 6, 2017 by Esther Jackson
Esther Jackson is the Public Services Librarian at NYBG's LuEsther T. Mertz Library, where she manages Reference and Circulation services and oversees the Plant Information Office. She spends much of her time assisting researchers, providing instruction related to library resources, and collaborating with NYBG staff on various projects related to Garden initiatives and events.
---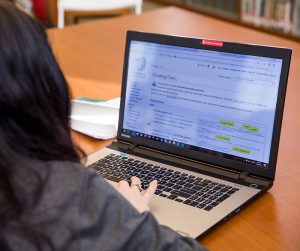 "Plants and People" was the theme of a Wikipedia edit-a-thon that The New York Botanical Garden's LuEsther T. Mertz Library hosted in January. Editors and organizers focused on creating and enhancing Wikipedia articles about women in science, specifically biographical articles of female ethnobotanists, plant taxonomists, and plant collectors. For this event, the special collections of the LuEsther T. Mertz Library were used extensively, allowing for analog biographical information about important women in science to be shared with the world through Wikipedia.
This was the second edit-a-thon at NYBG during the past year, and organizers benefited from the expertise and assistance of expert Wikipedia editors from the Wikimedia NYC chapter. Wikimedia, the foundation that supports the work of Wikipedia and its sister projects worldwide, posted a story about the event, including a video, on its blog.