Posted in From the Library on July 19 2017, by Esther Jackson
Esther Jackson is the Public Services Librarian at NYBG's LuEsther T. Mertz Library where she manages Reference and Circulation services and oversees the Plant Information Office. She spends much of her time assisting researchers, providing instruction related to library resources, and collaborating with NYBG staff on various projects related to Garden initiatives and events.
---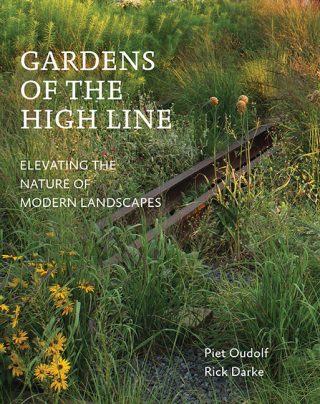 The High Line, "a public park built on a historic freight rail line elevated above the streets on Manhattan's West Side," is a popular NYC attraction for locals and tourists alike. Before reading Gardens of the High Line: Elevating the Nature of Modern Landscapes by Piet Oudolf and Rick Darke, I had the benefit of reading a wonderful review of the book written by Patricia Jonas for the Council on Botanical and Horticultural Libraries Newsletter. In her review, after a summary of the many books published on the High Line garden over the past six years, Jonas writes, "Could there possibly be any more vital books about the High Line yet to be published? Well, yes. Gardens of the High Line is the icing on all of this publishing and the only book to focus exclusively on the famous park's planting design and the plants."
Gardens of the High Line is exquisite, and a treat for regular High Line visitors and those who can only admire the space from afar. In the book's introduction, Friends of the Highline co-founder Robert Hammond writes, "when I first stepped up on the High Line in 1999, I truly fell in love. What I fell in love with was the tension. It was there in the juxtaposition between the hard and the soft, the wild grasses and billboards, the industrial relics and natural landscape, the views of both wildflowers and the Empire State Building. It was ugly and beautiful at the same time. And it's that tension that gives the High Line its power." This tension is captured in the photographs of Gardens of the High Line, although Lorraine Ferguson's graphic design of the volume makes even the most "ugly" portraits of the space seem beautiful.
Less focused on the history of the space and more concerned with the gardens themselves, Gardens of the Highline is a plant lover's dream. Each of the High Line's 13 gardens are profiled and described with extensive photographs, including wonderful aerial photographs. These aerial shots, in particular, offer a new glimpse into this popular site's overarching design ethos.
It's unlikely that you'll ever find the High Line as contemplative and empty as it appears in many of the Gardens of the High Lines photographs, but the book reminds readers why this dynamic space is so special and so worth returning to again and again throughout the seasons and years.