Posted in From the Library on July 24 2017, by Esther Jackson
Esther Jackson is the Public Services Librarian at NYBG's LuEsther T. Mertz Library where she manages Reference and Circulation services and oversees the Plant Information Office. She spends much of her time assisting researchers, providing instruction related to library resources, and collaborating with NYBG staff on various projects related to Garden initiatives and events.
---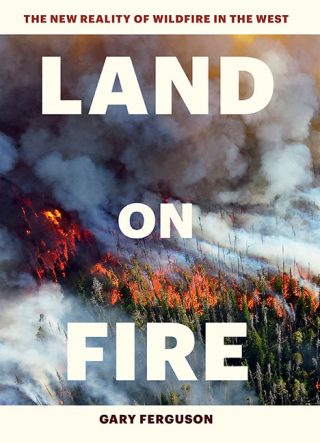 Land on Fire: The New Reality of Wildfire in the West by Gary Ferguson is a new book from Timber Press, representing the publisher's recent dedicated exploration into more ecologically minded and popular science books.
Land on Fire blends numerous color photographs with a narrative exploring the where, why, and when of wildfires in the western United States. Ferguson is quick to point out that fire, controlled properly, can be a valuable part of land management. Controlled (or prescribed) burns are used throughout the world, including in the New Jersey Pine Barrens, a fire-dependent ecosystem close to home.
For those who have not lived with the threat of forest fires, the images in Land on Fire are staggering and sobering. Decades of fire suppression, drought, climate change, and mass die-off of certain tree species because of invasive insects have all played their roles in wildfire season burning longer and hotter in the west. Thankfully, Ferguson ends Land on Fire with a chapter on risk reduction, presenting the three goals of the National Cohesive Wildland Fire Management Strategy—"first, to improve the ability of firefighters to respond to such emergencies; second, to restore fire-adapted landscapes (in other words, undoing some of the damage caused by 80 years of aggressive fire suppression); and finally, to create fire-adapted communities (downs and subdivisions … that will be far less prone to catastrophe from wildfire)." Meeting these three goals would, in theory, allow for better safety for people and property, save billions of dollars otherwise spent on suppression, and stabilize fire-dependent ecosystems that have been mismanaged.
Land on Fire is not totally a treatise on climate change, but it is a stark portrait of a world out of balance, thanks mostly in part to the actions of humans. Ferguson ends by writing, "clearly, we've still got a lot to figure out. But the incentives are high."