Posted in From the Library on August 9 2018, by Esther Jackson
Esther Jackson is the Public Services Librarian at NYBG's LuEsther T. Mertz Library where she manages Reference and Circulation services and oversees the Plant Information Office. She spends much of her time assisting researchers, providing instruction related to library resources, and collaborating with NYBG staff on various projects related to Garden initiatives and events.
---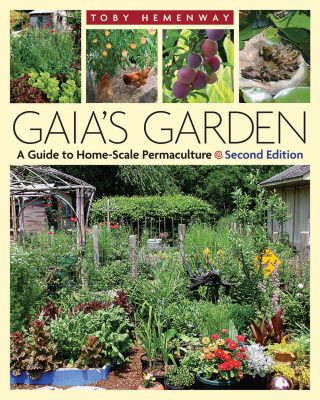 Permaculture is a fascinating topic, but it can be difficult to know where to start looking for information when you are new to the concept and want to learn more. Defined on Wikipedia as "a system of agricultural and social design principles centered around simulating or directly utilizing the patterns and features observed in natural ecosystems," permaculture has applications in landscape and ecological design, ecological engineering, environmental design, construction, and site maintenance. Two books new to the NYBG Mertz Library, Gaia's Garden (2009) and The Rodale Book of Composting (2018), offer practical advice for home gardeners who would like to include more sustainable features in their landscapes.
Gaia's Garden: A Guide to Home-Scale Permaculture (second edition, 2009) is a comprehensive introduction to permaculture principles and projects for the home gardener. Authored by Toby Hemenway, the work is centered on gardening practices in the Pacific Northwest but filled with concepts and projects that are appropriate for gardeners in any region. The ethos in Gaia's Garden has carried through to many more contemporary gardening books, and this Nautilus Book Awards winner is still a relevant resource for those who are curious to learn more deeply about permaculture principles. One caveat related to the book's age is that the plant lists should be examined critically before application—several of the recommended non-native species have been found to be problematic since the time of the book's publication.