Posted in From the Library on May 1 2018, by Samantha D'Acunto
Samantha D'Acunto is the Reference Librarian at The New York Botanical Garden's LuEsther T. Mertz Library.
---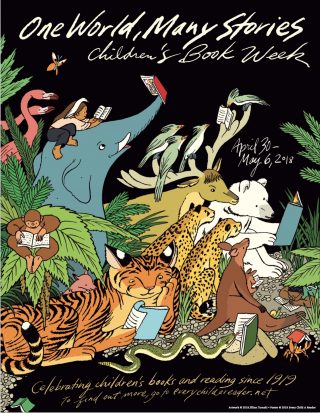 It's the 99th anniversary of the Children's Book Council – Children's Book Week! Children's Book Week is a national event that first started in 1919 to promote literacy among the nation's youth. Each year readers are invited to celebrate this week in various ways. To join in on the fun, the LuEsther T. Mertz Library would love to share exciting new titles that have recently been added to our children's circulating collection. Visit us in the library to see fantastic titles on display April 30th to May 6th!
To kick off the celebration we would like to highlight…
Floris Books is reintroducing the works of Sibylle von Olfers and Signe Aspelin to delight a new generation! Originally, the Story of the Root Children was printed in 1906 in German. It is now in its eighth printing in English. For readers not familiar with the story, it's a celebration of the wonders that spring and summer offer each year. Winter is over and it is time for Mother Earth to wake up the Root Children. As they wake from their sleepy slumber, the Root Children begin to prepare to emerge for spring. In their bright colors, the Root Children— Snowdrop, Forget-me-not, Daisy, Buttercup, Poppy, and their insect friends—make their way above ground. Under the warmth of the sun, they all explore forests and meadows. As spring turns to summer, and summer to autumn, the Root children are ready for bed again.