Posted in From the Library on July 27 2017, by Esther Jackson
Esther Jackson is the Public Services Librarian at NYBG's LuEsther T. Mertz Library where she manages Reference and Circulation services and oversees the Plant Information Office. She spends much of her time assisting researchers, providing instruction related to library resources, and collaborating with NYBG staff on various projects related to Garden initiatives and events.
---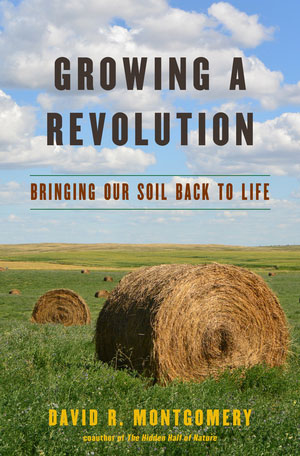 Growing a Revolution: Bringing Our Soil Back to Life by David R. Montgomery challenges the "norm" in industrial farming soil care. With research, interviews, and an engaging style of writing, Montgomery invites readers and farmers alike to consider the ways in which soil fertility can be improved with better soil care.
Growing a Revolution follows fast on the heels of Montgomery's 2016 book, The hidden half of nature : the microbial roots of life and health. Montgomery, a professor of geomorphology at the University of Washington, has made a career out of soil. Revolution is the work of an author who is comfortable with his chosen subject and skilled at writing for a popular audience. The question that Montgomery poses to readers is simple, yet daunting in its scope. "What if there was a relatively simple, cost-effective way to help feed the world, reduce pollution, pull carbon from the atmosphere, protect biodiversity, and make farmers money to boot?" The answer, as readers might guess, is to cultivate good soil health.