Posted in From the Library on January 11 2018, by Samantha D'Acunto
Samantha D'Acunto is the Reference Librarian at The New York Botanical Garden's LuEsther T. Mertz Library.
---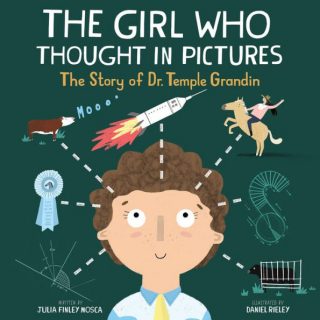 As we embark on 2018, consider revising your reading lists to incorporate these new and exciting titles from the circulating Children's collection at the LuEsther T. Mertz Library! The National Science Teachers Association recently listed two of the titles in this post on Outstanding Science Trade Books 2018. The library will continue to feature more titles from this list in future posts.
Innovation Press celebrates innovative authors and illustrators, and the Library has welcomed three of their new titles into our collection. Kicking off this post is The Girl Who Thought in Pictures: The Story of Dr. Temple Grandin by Julia Finley Mosca, which introduces extraordinary visual thinker Dr. Temple Grandin, who harnessed her autism to visualize modern farming techniques that have been implemented by farms across the globe. This book has received high praise from both critics and readers! The illustrations by Daniel Rieley help readers see what Dr. Grandin was thinking. The combination of text and detailed visuals will excite readers of all needs, and Dr. Temple Grandin is an inspiration to innovators of all ages.