Posted in Programs and Events on February 5 2016, by Matt Newman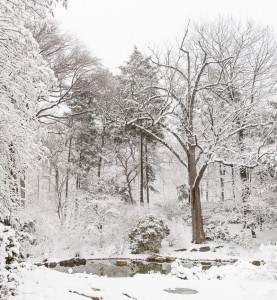 With a fresh blanket of snow dusting our outdoor collections and a sunny weekend on the forecast, the next two days are a welcome opportunity to experience a classic winter outing—with all the warm days we've been having, it certainly took its time.
On the docket is our long-running Bird Walk with Debbie Becker, where you can join up with veteran birders and newbies alike to tour our 250 acres with binoculars in hand. With the leaves gone from the trees, and the blanket of white casting the wildlife of the Garden in high contrast, now is one of the best times of year to go out and find our feathered friends.
Now is also the perfect time to take part in one of our weekend tours. Whether you're looking to explore the wintry trees of the outdoor collections or stay warm in the steamy rain forests of our Haupt Conservatory, NYBG's expert guides have got you covered.
Check below for the full schedule!