Posted in From the Library on October 3 2019, by Esther Jackson
Esther Jackson is the Public Services Librarian at NYBG's LuEsther T. Mertz Library where she manages Reference and Circulation services and oversees the Plant Information Office. She spends much of her time assisting researchers, providing instruction related to library resources, and collaborating with NYBG staff on various projects related to Garden initiatives and events.
---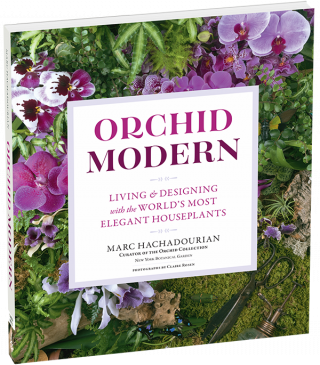 While the NYBG Library's Plant Information Office answers thousands of questions per year from the public about plant care, sometimes there's a tricky orchid question about obscure plant identification or growing a less common species or genus. In those cases, we look to Marc Hachadourian, Senior Curator of the NYBG Orchid Collection, for his guidance and his extensive plant knowledge.
Now, readers can take advantage of Marc's expertise by picking up a copy of his recent book—Orchid Modern: Living & Designing with the World's Most Elegant Houseplants (2019). In addition to his role as Curator, Marc is also the Director of Glasshouse Horticulture at the Garden overseeing the cultivation of tens of thousands of plants for the Garden's many displays. He has been fascinated with orchids since he was a child, expanding his expertise over the years. He is also an author of Botanica Magnifica: Portraits of the World's Most Extraordinary Flowers & Plants (2009) and a guest on Martha Stewart, where he answers questions about orchid care and talks about topics from orchid varieties to the NYBG Orchid Show.
Orchid Modern is designed and organized similarly to other books on orchid care. After a general introduction to orchids as a group, there is a general care section; a seasonal chore/care section; approximately 40 pages devoted to decorating projects with orchids (the diagrams here are exceptionally helpful and the projects are beautiful); approximately 80 pages of "easy-care orchids from A to Z;" and a short resources section at the end. The book is appropriate for new orchid enthusiasts who want some general guidance about how to care for their plants, more advanced growers who are looking for information about less common orchid houseplants, and floral arrangers seeking to develop creations with living plants. On the whole, the book is well-designed, well-written, and a great addition to any orchid-lover's home library.