Posted in From the Library on April 24 2018, by Esther Jackson
Esther Jackson is the Public Services Librarian at NYBG's LuEsther T. Mertz Library where she manages Reference and Circulation services and oversees the Plant Information Office. She spends much of her time assisting researchers, providing instruction related to library resources, and collaborating with NYBG staff on various projects related to Garden initiatives and events.
---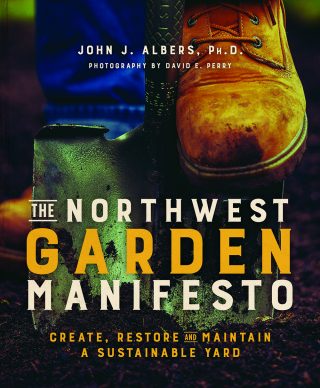 I have a soft spot for gardening books from the Northwest, and so although I live on the East Coast, The Northwest Garden Manifesto: Create, Restore, and Maintain a Sustainable Yard by John J. Albers, Ph.D. (photography by David E. Perry), for Mountaineers Books/Skipstone, is right up my alley. In Northwest, Albers has provided a book that is part instructional and part manifesto. The basics of garden (or "yard") design are addressed, but the focus is on ecology and sustainable land management. While not explicitly a permaculture guide, Northwest includes useful information about topics such as composting, solar energy, and wildlife habitats. Although the plant recommendations are most appropriate for the Northwest, gardeners throughout the United States will find Albers's book useful and informative. It is an especially appropriate book for someone who is considering becoming more hands-on with garden or yard care, and wants to understand how a person or community can affect positive ecological change.