Posted in From the Library on January 24 2019, by Esther Jackson
Esther Jackson is the Public Services Librarian at NYBG's LuEsther T. Mertz Library where she manages Reference and Circulation services and oversees the Plant Information Office. She spends much of her time assisting researchers, providing instruction related to library resources, and collaborating with NYBG staff on various projects related to Garden initiatives and events.
---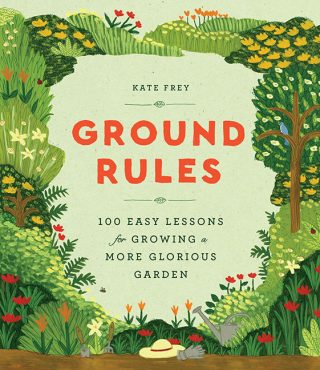 Ground Rules: 100 Easy Lessons for Growing a More Glorious Garden is a new title from Kate Frey for Timber Press. Frey, who is a consultant, educator, designer, and freelance writer specializing in sustainable gardens and small farms that encourage biodiversity, has distilled her years of gardening experience into 100 short and sweet points aspiring gardeners. I was a big fan of Frey's 2016 The Bee-Friendly Garden, but Ground Rules, although a pretty book, lacks real substance. Although the 100 lessons are divided into sections, there is no table of contents, making readers wonder at the attempt at structure. On a positive note, I did enjoy the lessons about soil—perhaps this topic might be a future one for Frey to explore in more detail. All in all, a charming coffee table book, and a font of useful tips, perhaps just what a novice gardener is looking for in order to take the plunge and start a garden.