Posted in Garden News on November 13 2018, by Plant Talk
Esther Jackson is the Public Services Librarian and Samantha D'Acunto is the Reference Librarian for The New York Botanical Garden.
---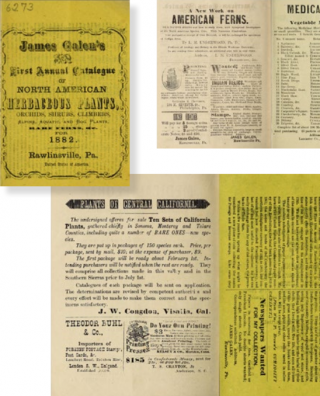 This past spring, LuEsther T. Mertz Library staff invited several NYBG Adult Education classes to view treasures from our special collections. The classes were given tours of the Library and the Rare Book Room where they viewed special collection titles related to their class subjects.
The students from the class Orchid Next Door with Dr. Matthew Pace joined Library staff for a viewing of the First Annual Catalogue of North American herbaceous plants, orchids… (1882) by James Galen, The orchid hunters: a jungle adventure (ca. 1939) by Norman MacDonald, and many other exciting titles. The Hidden World of Lichens class with Dr. James Lendemer joined the Library staff in two sessions to view materials related to the chronological history of lichenology through various materials in the Library's collection. Other sessions included a viewing of 17th- century bulb literature for students of Landscape Plants: Bulbs! with instructors Michael Hagen and Marta McDowell; a review of 19th-century, hand-colored floral illustrations for the students of Designing with Tropical Flowers with Bridget Vizoso; and a peek at the Library's mounted-insect collection for the students of Entomology with Tam Nguyen.