Posted in From the Library on September 20 2018, by Esther Jackson
Esther Jackson is the Public Services Librarian at NYBG's LuEsther T. Mertz Library where she manages Reference and Circulation services and oversees the Plant Information Office. She spends much of her time assisting researchers, providing instruction related to library resources, and collaborating with NYBG staff on various projects related to Garden initiatives and events.
---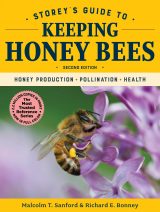 Storey's Guide to Keeping Honey Bees: Honey Production, Pollination, Health (second edition, 2018) contains everything a beginner beekeeper needs to know to get started. At 200 pages, it is chock-full of very useful and fascinating information. The authors of the work are Dr. Malcolm T. Sanford, retired extension entomologist and professor emeritus, Department of Entomology & Nematology, Institute of Food and Agricultural Sciences, University of Florida, and veteran beekeeper Richard E. Bonney. Together, they cover a remarkable amount of information about honey bees, from the practical aspects of how to start beekeeping, to more advanced colony management practices.