Posted in The Orchid Show on March 10 2014, by Lansing Moore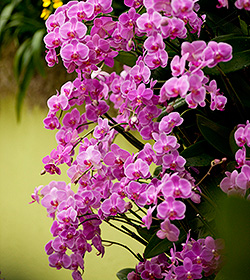 We wrapped up our first week of The Orchid Show: Key West Contemporary over the weekend, and we already have the first Orchid Evening event under our belts. The Orchid Show this year takes its inspiration from a garden designed by Raymond Jungles for an estate garden in Key West, whisking us away to Florida's tropical climate. We bedecked the geometric reflecting pools, soaring angular pergolas, and sleek benches of this modern residence with hundreds of orchids! With so many varieties on view, the final effect is dazzling. For a burst of color on this March afternoon, click through for a look at The Orchid Show in all its glory.
There are an estimated 30,000 naturally occurring orchid species and tens of thousands of artificially created hybrids. We couldn't possibly have room for all of them, but there is a stunning array on display at the Conservatory, and thousands of types in the Garden's permanent collection.