The NYC Compost Project helps to reduce waste in NYC and rebuild City soils by giving New Yorkers the knowledge, skills, and opportunities they need to produce and use compost locally. NYC Compost Project programs are carried out by staff funded by the Department of Sanitation (DSNY) at host organizations in each borough.
About the NYC Compost Project
The NYC Compost Project was founded in 1993 by the NYC Department of Sanitation (DSNY) to provide compost outreach and education to New York City residents, institutions, and businesses.
The NYC Compost Project hosted by The New York Botanical Garden offers free educational workshops, technical assistance to community compost sites, volunteering opportunities, outreach events and more. After more than 30 years of composting outreach and education, the NYC Compost Project continues to increase the number of composting opportunities available to New Yorkers and shape the landscape of home and community composting in New York City.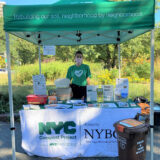 Master Composter Certificate Course
The Master Composter Certificate Course is an advanced compost education and outreach program. The course is designed to build a citywide network of educators, advocates, and community composters to support the NYC Department of Sanitation composting initiatives.
The course is taught year-round and is open to NYC residents who are at least 18 years of age. Visit the Master Composter Certificate Program web page for a schedule of courses, requirements, and other resources.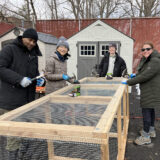 Compost Education
The NYC Compost Project Hosted by The New York Botanical Garden teaches free compost workshops in the Bronx. Please check our Events Page for a schedule of upcoming workshops.
We also host information tables and give public presentations. Contact us at compost@nybg.org if you would like to request an info table at your event.
Visit our Compost Resource Library to learn about how to compost, using compost, indoor composting, and more!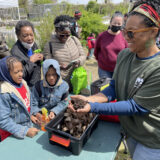 Technical Assistance
The NYC Compost Project offers technical assistance and consultations in building 3-bin systems, creating compost action plans, organizing volunteer workdays, troubleshooting, and more.
We work with 55 actively-managed Community Compost Sites in the Bronx, and we consult with dozens of additional community gardens and schools to create and improve the compost systems at their sites. To become a certified Community Compost Site, a group must demonstrate leadership, team-building, and troubleshooting skills among its own members and with others to make and harvest compost at its site. Community Compost Sites have priority access to NYC Compost Project resources and all sites are encouraged to strive toward this level of achievement.
Contact us if your group would like to collaborate with us.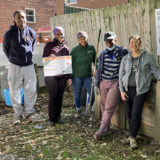 Food Scrap Drop-Off Sites
The NYC Compost Project supports several community-hosted Food Scrap Drop-Off sites where residents can bring their food waste to be composted locally.
At our Bronx drop-off locations, we provide site members with the tools and support to make compost successfully. The finished compost is used directly in the garden on each site, benefitting the soil, plants, and vegetables grown there. If needed, we connect drop-off sites with a hauling partner to pick up excess food scraps to be composted locally. Interested in becoming a public Food Scrap Drop-Off in NYC? Sign up today!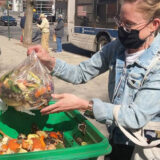 Volunteer Opportunities
Join us at a compost workday! Get some hands-on composting experience and meet someone new at one of the beautiful gardens in the Bronx. See our monthly schedule of events for upcoming volunteer opportunities. These events are open to the public and no experience is necessary.
Contact us in advance if you would like to bring a group. We are also happy to collaborate with student clubs, service learning programs, and other volunteer groups to arrange group-specific workdays at our sites.