Posted in New Plant Discoveries on May 27, 2015 by Science Talk
Jessica L. Allen is a graduate student in the Commodore Mathew Perry Graduate Studies Program, and James C. Lendemer, Ph.D., is an Assistant Curator at the Institute of Systematic Botany, both at The New York Botanical Garden. Lichens are their primary research interest.
---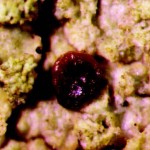 Atop Hangover Mountain in the Unicoi Mountains along the North Carolina-Tennessee border, we recently discovered a population of lichens that were in fruit and were excited to realize that they were a new species. Another native gem had been added to the flora of North America.
But what to name the new species?  As we contemplated that question, we sat down to eat our lunch and take in the sweeping views of the nearby Smokies.
When most people think of native plants and animals, images of familiar flowers and songbirds probably come to mind. But largely overlooked are the thousands of lichen species that make their homes in our own backyards. Lichens are fungi that have evolved unique relationships with algae for the purpose of obtaining nutrition.
Indeed fungi that have adopted this lifestyle play crucial roles in keeping our natural landscapes healthy. They also form spectacular growths on trees, rocks and soil from the highest mountains to the lowest and harshest deserts. Scientists at The New York Botanical Garden have discovered new species of lichens throughout eastern North America steadily over the last 50 years, with no end in sight.