Posted in From the Library on September 21 2017, by Samantha D'Acunto
Samantha D'Acunto is the Reference Librarian at The New York Botanical Garden's LuEsther T. Mertz Library.
---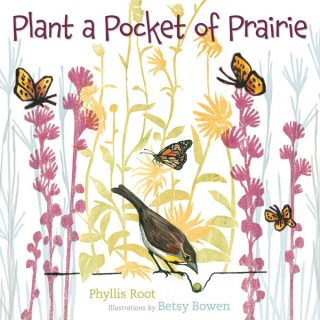 It was earlier this year we received Anywhere Farm into the LuEsther T. Mertz library children's circulating collection and instantly visitors and staff alike fell for Phyllis Root. Roots writing style is both familiar and refreshing. Collaborations with illustrators like Betsy Bowen bring to life Root's rhythmic narrative of life, nature, and the unknown. Root and Bowen effortlessly capture the whimsical curiosities of child exploration, using imagery and language to invite the reader to discover the wonders of the environments around them. In the two titles featured below, the readers are asked to explore areas that often are over looked: a prairie and a bog.
Plant a Pocket of Prairie by Phyllis Root / Illustrated by Betsy Bowen
If you look beyond the tall grasses of the prairie, you will reveal a unique and endangered ecosystem. In Plant a Pocket of Prairie readers explore beyond the grasses to reveal the flora and fauna that once covered 40 percent of the United States. Sprinkled throughout the pages you will find delicate watercolors capturing snapshots of prairie landscape. Root and Bowen work together to introduce the reader to specific plant and animal species that are endangered, threatened, and extinct. Bursts of butterfly weed, silky asters, and big prairie sunflowers appear as the pages advance. Bison, American goldfinches, and monarch butterflies peak through the foliage. The race to restore the prairie is up to each one of us, and we can help if we plant a pocket prairie! But how? Root instructs readers to find the native prairie elements of your region and plant them wherever you can, both large and small spaces. We'll never be able to bring back the species we lost but in planting a small pocket prairie we can support the species that remain.