Posted in From the Library on December 15 2017, by Samantha D'Acunto
Samantha D'Acunto is the Reference Librarian at The New York Botanical Garden's LuEsther T. Mertz Library.
---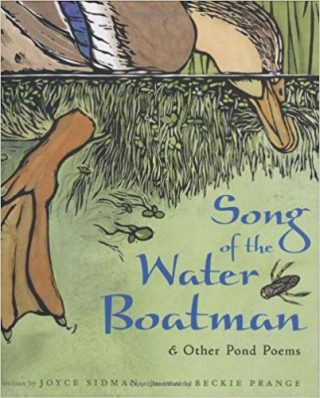 Now circulating from The LuEsther T. Mertz Library children's collection are the exciting and imaginative works by award-winning children's book author Joyce Sidman. I invite you to explore shapes, seasons, wildlife, plants, and soil with the lyrical poetry and whimsical illustrations by Sidman and her peers. Her most notable work The Song of the Water Boatman and Other Pond Poems, illustrated by Beckie Prange, is the winner of the Caldecott Honors and the Lee Bennett Hopkins Poetry Award. Its riddle-like poetry encourages readers to use the images on the pages as clues.
Sidman continued to dazzle critics and readers by winning another Caldecott Honors and the Claudia Lewis Poetry Award for Red Sings from Treetops: A Year in Colors, illustrated by Pamela Zagarenski. Experience the changing of the seasons with the bursts of color and the flowing verse throughout.