Posted in From the Library on May 2 2019, by Esther Jackson
Esther Jackson is the Public Services Librarian at NYBG's LuEsther T. Mertz Library where she manages Reference and Circulation services and oversees the Plant Information Office. She spends much of her time assisting researchers, providing instruction related to library resources, and collaborating with NYBG staff on various projects related to Garden initiatives and events.
---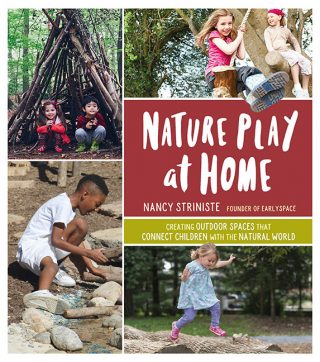 Nature Play at Home: Creating Outdoor Spaces that Connect Children with the Natural World (2019) by Nancy Striniste centers on the development of nature-friendly spaces for children to explore and learn about the outdoors. Striniste has a background as a landscape designer and an early childhood educator, and is the founder and principle designer at EarlySpace. In Nature Play, she synthesizes for readers her over 30 years of experience in creating spaces for children.
Nature Play is a delight from the first page. Striniste is an excellent writer who uses clear prose and a strong structure to guide readers in both the creation of nature-friendly spaces for children and in understanding the "why" behind certain features. Enclosures and shelter offer a feeling of safety; pathways can set a pace for how a garden should be experienced, or facilitate navigation of different spaces. The book includes instructions for 12 step-by-step nature play projects, complete with illustrations. It also provides a helpful synthesis of the current state of nature play theory. A detailed and thorough bibliography elevates the work to be a helpful reference resource for teachers and garden educators alike. As a bonus, most of the plants featured are native to North America, with non-native species indicated clearly.