Posted in From the Library on October 26 2018, by Esther Jackson
Esther Jackson is the Public Services Librarian at NYBG's LuEsther T. Mertz Library where she manages Reference and Circulation services and oversees the Plant Information Office. She spends much of her time assisting researchers, providing instruction related to library resources, and collaborating with NYBG staff on various projects related to Garden initiatives and events.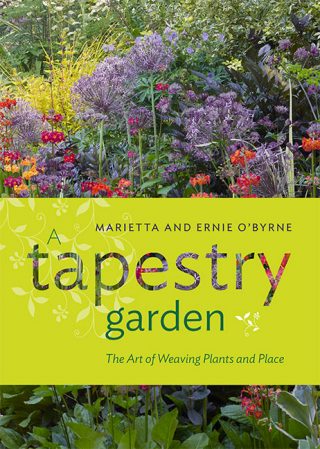 Three new books in the Mertz Library show readers the breadth of possibilities available to the home gardener, from place, to ponds, to planting.
A Tapestry Garden: The Art of Weaving Plants and Place (2018) by Marietta and Ernie O'Byrne (co-owners of Northwest Garden Nursery in Eugene, Oregon) is a lovely collection of photographs and plant recommendations. Eye candy for those who are in search of new planting ideas, Tapestry Garden radiates with the authors' love of plants as their personal stories which accompany the featured flora. The authors offer a palette of plants both native to the Pacific Northwest and from other regions of the world, with an emphasis on cultivated varieties. An eclectic, sometimes stream-of-consciousness narrative is a departure from more structured "how-to" gardening books, and invites readers to engage with the authors' gardening philosophy and favorite plants.