Posted in Exhibitions on October 2 2014, by Joyce Newman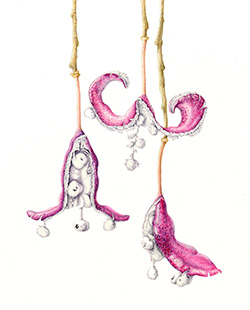 Weird, Wild, and Wonderful, the stunning botanical art exhibit in the Ross Gallery, has been extended through October 26. This exhibition invites artists from around the world to seek out visually unusual plants and create works of art that celebrate the bizarre—yet beautiful—flora of the world. From 240 submissions, members of the American Society of Botanical Artists selected 46 works created by 45 artists from the U.S., Australia, Canada, India, Japan, and the U.K.

According to NYBG instructor and botanical artist Dick Rauh, the show's emphasis is definitely on the "weird." He writes, "There are certain botanical categories that provide us with almost limitless examples of strange-looking plants." He mentions "the parasites," such as the white stalks of Indian Pipe (Monotropa uniflora) and the "evil-looking" Hydnora africana, also known as Jackal Food.
Other weird plants that Rauh notes include insectivorous plants, fungi, ferns, and those plants whose size would qualify as unusual, such as "the two-foot-wide inflorescence of the onion Allium giganteum, the huge bloom of Stapelia giganea, or living stones (Lithops spp.)—a rare example of floral camouflage. Many of these plants are featured in a gorgeous 76-page catalog of the artwork in the show, available in the Shop in the Garden.