Posted in Exhibitions, Video on September 27 2012, by Matt Newman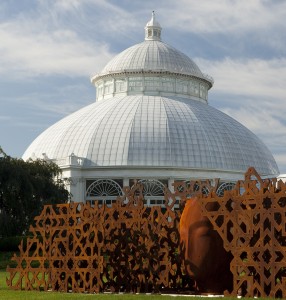 Nothing drives home the sheer enormity of our latest exhibition, Manolo Valdés: Monumental Sculpture, like seeing it built from the ground up. Over the course of two weeks, dozens of people and at least a few multi-ton machines were on the scene to put the final strokes on a work many, many months in the making. Naturally, we couldn't pass up capturing some video.
From the first sketch put to paper in Valdés' Manhattan studio, to the foundry in Madrid, and back across the 4,000 miles separating Spain and New York City, this production has proven nothing short of a massive undertaking. Carrying the collection of sculptures from the docks required a fleet of seven flatbed trucks. Once at the Garden, towering cranes were called in, gingerly rolling onto our lawns to settle each piece into its chosen site. And at 50 feet across and weighing nearly 20 tons, shipping any one of these sculptures as a single piece was out of the question; assembly called for even more precision cranework, with muscle on the ground to ensure everything was arranged to specification.