Posted in From the Field on November 22, 2017 by Science Talk
Gregory M. Plunkett, Ph.D., is Director and Curator of the Cullman Program for Molecular Systematics at The New York Botanical Garden and Michael J. Balick, Ph.D., is Vice President for Botanical Science and Director and Philecology Curator of the Botanical Garden's Institute of Economic Botany.
---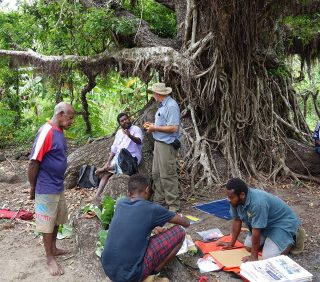 The people of Vanuatu, an island group in the South Pacific Ocean, have a rich cultural history and intense desire to maintain these cultural practices as living traditions, enshrined in the concept of kastom. However, preserving kastom can be a great challenge in a rapidly changing and globalizing world. We initiated a biocultural conservation program in Vanuatu's southernmost islands, the area known as Tafea Province, aimed at understanding the area's plant and fungal biodiversity and its local uses, both traditional and modern. This initiative is helping to conserve biodiversity resources and support cultural practices in this remote part of the world.
To begin the project, we held extensive meetings with community members to gauge their interest in participating in the documentation of plants and plant uses. In many areas, we saw signs of rapid erosion of such knowledge, where grandparents knew the traditional information, but their children and even more so their grandchildren had experienced a growing alienation from the natural world, especially as they became more dependent on modern approaches to life.