Posted in Environment on May 10, 2019 by Brian Boom
Brian M. Boom, Ph.D., is Vice President for Conservation Strategy at The New York Botanical Garden.
---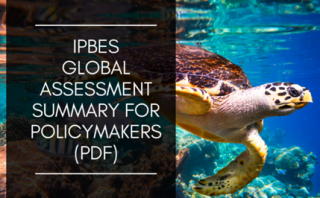 Before this week, most readers probably had not heard of the Intergovernmental Science-Policy Platform on Biodiversity and Ecosystem Services (IPBES), but they certainly will know of its existence now. This United Nations group made major news this week, as reported in The New York Times, with publication of its first official report, the IPBES Global Assessment Summary for Policymakers. Among its major findings was that about one million plant and animal species are now threatened with extinction, many within decades, more than ever before in human history. The IPBES report makes an ironclad case for urgent global action to mitigate human-induced biodiversity loss before humanity crosses the fail-safe point.
The breathtakingly dire findings of the IPBES report were captured in the title and content of an analysis by Thomas E. Lovejoy, Ph.D., "Eden No More," published in Science Advances this week. Dr. Lovejoy, an NYBG Trustee and Gold Medal recipient, elegantly explains what is meant by ecosystem services: "those charities of nature, both nebulous and tangible, that serve as the backbone of human well-being: food, fresh water, clean air, wood, fiber, genetic resources, and medicine."