Posted in From the Field on January 22, 2018 by Science Talk
Jessica Allen, Ph.D., is a Post-Doctoral Researcher at the Swiss Federal Institute for Forest, Snow, and Landscape Research in Birmensdorf, Switzerland. James Lendemer, Ph.D., is an Assistant Curator in the Institute of Systematic Botany at The New York Botanical Garden. Lichens are their primary research interest.
---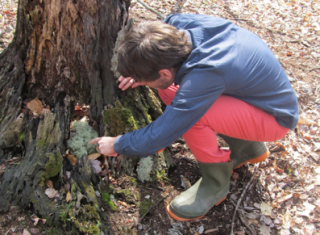 In April 2015, we carefully removed two species of lichens from their original homes at the Rutgers Pinelands Field Station in southern New Jersey, wrapped them in tissue paper, and transported them to the Thain Family Forest at The New York Botanical Garden. Once there, we hung one species, called old man's beard (Usnea strigosa), in trees, and we nestled the other, known as reindeer lichen (Cladonia subtenuis), on the forest floor. These species used to live in New York City but were extirpated by the early 1900s because of decreasing air quality. Now that air quality is improving in the city, we were curious to test whether or not the species were ready to be brought back.