Posted in Events on November 15, 2019 by Stevenson Swanson
Stevenson Swanson is the Associate Director of Public Relations at The New York Botanical Garden.
---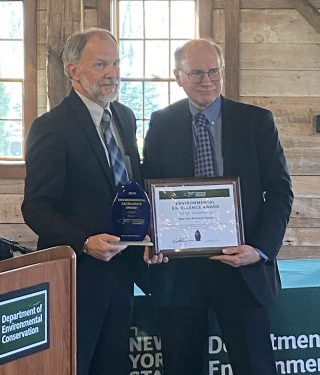 The New York Botanical Garden has received a New York State Environmental Excellence Award for 2019 in recognition of the Botanical Garden's ongoing commitment to being a leader in the Empire State in reducing energy use and carbon emissions and increasing the sustainability of its operations.
The Garden was one of only four organizations to be honored with the award, which is presented annually by the state's Department of Environmental Conservation (DEC) to recognize outstanding efforts to achieve a more sustainable New York. A statewide review committee selected the winners from an array of competitive applications.
"The New York Botanical Garden is honored to be recognized by the New York State Department of Environmental Conservation with this award," said Carrie Rebora Barratt, Ph.D., CEO and The William C. Steere Sr. President of The New York Botanical Garden. "At a time when plants are under threat as never before, NYBG is proud to be a leader in environmental stewardship and sustainable development on our 250-acre campus in the Bronx and in areas of critical conservation concern throughout our region, across the country, and around the world."