Posted in Interesting Plant Stories on July 20, 2017 by Stevenson Swanson
Stevenson Swanson is the Science Media Manager at The New York Botanical Garden.
---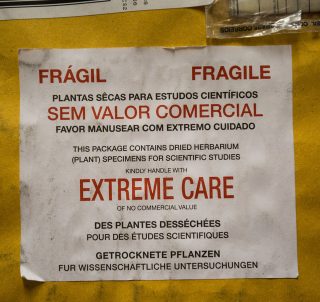 When your local library doesn't have a copy of that latest best-seller that you've been dying to read, it can usually request the title from another library. Something very similar happens when plant researchers are looking for preserved specimens in their field of study: they can request loans of these invaluable resources from research repositories across the globe.
NYBG's William and Lynda Steere Herbarium sends an average of 20,000 specimens out on loan every year. Even now, as millions of ultra high-resolution digital images of plant specimens are becoming readily available online in The New York Botanical Garden's C. V. Starr Virtual Herbarium, there are still many times when nothing short of the physical specimen will do.