Posted in Children's Education on May 26 2015, by Ann Novak
Ann Novak is the Manager of the Edible Academy at The New York Botanical Garden.
---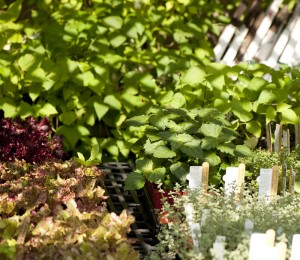 Our lettuce transplants are getting bigger every day, snappy radish roots are turning red under the soil, and the peas are starting to vine. It's time for Salad Days at the Ruth Rea Howell Family Garden! Shakespeare called a person's youth "salad days" for a reason: these are the sweetest days of the year, when everything seems possible. Especially a delicious salad! We're in our last week of this wonderful program, which ends on Friday, June 5.
To learn more about all the crops in our plots, dig in with the staff in the Family Garden. We're excited about our first harvest of the season and celebrating salads in all sorts of ways. Visitors can create a paper plate salad to learn more about plant parts as we make art. Measure and mix the dried herbs you need to take home a salad dressing to finish and enjoy at home. Explore the garden with a scavenger hunt learning more about the plant parts that make up a salad.